Ohio Sues Norfolk Southern for Environmental and Economic Damage After Toxic Train Derailment
Ohio Attorney General David Yost announced the lawsuit against the massive rail company.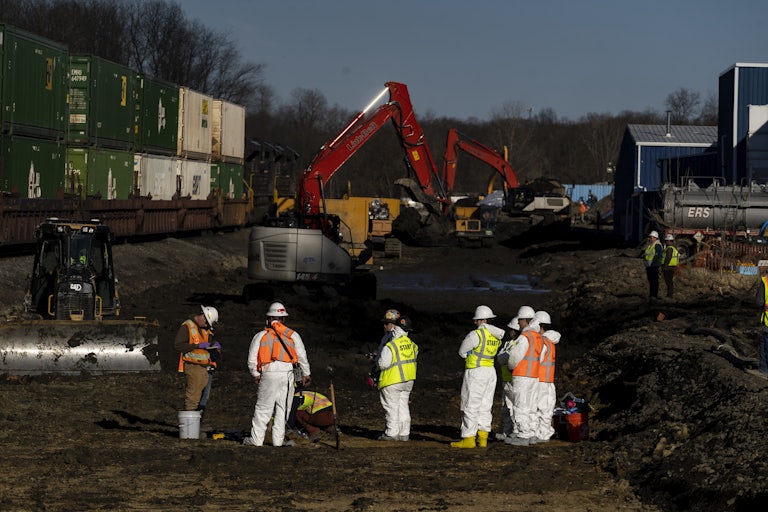 Ohio EPA and EPA contractors collect soil and air samples from the derailment site on March 9 in East Palestine, Ohio.
Michael Swensen/Getty Images
The state of Ohio is suing rail giant Norfolk Southern after the company's disastrous train derailment in East Palestine, Ohio, last month.
"The derailment was entirely avoidable and the direct result of Norfolk Southern's practice of putting its own profits above the health, safety and welfare of the communities in which Norfolk Southern operates," the lawsuit reads.
The lawsuit, which was announced Tuesday, cites Norfolk Southern's escalating accident rate, which has risen 80 percent in the past 10 years. At least 20 Norfolk Southern derailments since 2015 have involved chemical discharges. The entire industry is responsible for over 1,000 derailments every year.
The lawsuit strikes Norfolk Southern on 58 violations of federal and state laws. Ohio is seeking the recovery of the costs of natural resource and property damages, economic harm to the state and residents, and present and future state expenses made in response to environmental and public health concerns. The state also seeks a baseline "declaratory judgment holding Norfolk Southern responsible."
The suit names an array of particular laws violated, including the Comprehensive Environmental Response, Compensation, and Liability Act (CERCLA, otherwise known as Superfund), enables federal support to clean up hazardous disasters like the derailment while pursuing liability charges against the actual actors responsible. The suit acts as a vessel for Ohio to secure guarantees that Norfolk Southern will be held liable to the costs incurred by the state while mitigating the disaster.

Last week, Norfolk Southern CEO Alan Shaw pledged to a Senate panel that the company is committed to doing "what's best" for the community.

Meanwhile, people in and outside of East Palestine have reported an array of symptoms ranging from sore throats and staying migraines to bloody stools and skin rashes. Animals and family pets have died. And Norfolk Southern workers compelled to work to clean up the site without adequate PPE have reported ongoing symptoms.

"Ohio shouldn't have to bear the tremendous financial burden of Norfolk Southern's glaring negligence," state Attorney General Dave Yost said Tuesday. "The fallout from this highly preventable incident may continue for years to come, and there's still so much we don't know about the long-term effects on our air, water and soil."
This post has been updated.