Republican Congressman Mike Collins Blames Diversity for Norfolk Southern Train Derailments
The representative from Georgia believes diversity, equity, and inclusion is the real reason for the train derailments.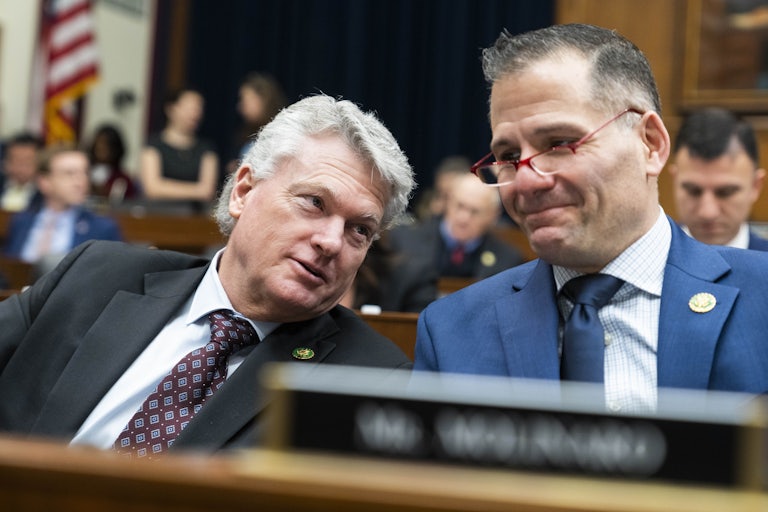 Tom Williams/CQ-Roll Call, Inc/Getty Images
On Wednesday, Republican Representative Mike Collins of Georgia's 10th congressional district found the real reason for the disastrous train derailments happening across the country. It's not the massive railroad companies throwing hundreds of millions into lobbying politicians, presidents who deregulated the railroad industry, or politicians who imposed corporate friendly contracts on already overworked rail workers. No, Collins suspects the real culprit is diversity, equity, and inclusion.
"After seeing another Norfolk Southern train derailed this weekend, I was reminded of the fact that the company wrote to shareholders stating that it is focused on DEI," Collins said on the House floor. "This administration's focus on DEI is forcing private companies to rethink their goals and one has to wonder, was Norfolk Southern's DEI policies directing resources away from the important things like greasing wheel bearings? Now this insanity must stop."
Using his precious taxpayer-funded time on the floor of the nation's Capitol to spew nonsense, Collins seemed, like most conservatives, completely unconcerned with how things actually go wrong in the railroad industry. This is not revelatory, particularly given this outcome is exactly what conservative governance aims for: corporate friendly deregulation that prioritizes profits over the actual welfare or material outcomes for impacted people (workers, residents suffering from derailments, all taxpayers whose money funds a government that allows it all to keep happening).
But it's worth taking a closer look at Collins's personal record.
A freshman Republican in Congress, Collins has studiously avoided any mention of the influence of corporations in politics when he talks about the rail industry. Perhaps because of his own history. About 72 percent of his 2022 campaign fundraising came from large individual contributions and 12 percent from PAC contributions. He also pulled $531,000 from his own wallet, after he had received a now-forgiven PPP loan of $920,000.
Collins also wrote a Fox op-ed last month blaming "wokeness" at the Department of Transportation for its response to the train derailment in East Palestine, Ohio. While there are some legitimate concerns with the department's response, wokeness isn't one of them. In the op-ed, Collins lauded the "private sector" for its ability to "solve challenges," ignoring that if there are over 1,000 train derailments every year, the private sector doesn't really do this.
Collins leaned on his experience running a trucking company for over 30 years to preach about the private sector's primacy anyhow. A review of Department of Transportation records showed that nearly 30 percent of Collins's company trucks inspected in the last two years were deemed to be "out of service" and not authorized to operate. That's higher than an already high national average of 22.1 percent.
In noninfrastructure news, Collins also recently hired veteran Republican operative and serial criminal Brandon Phillips to be his chief of staff.
Phillips was arrested in November 2022 for kicking a dog with his boot, cutting the animal's stomach. He received one misdemeanor charge of animal cruelty and was held on a $1,200 bond, which he posted to get released.
In 2016, Phillips resigned from the Trump campaign after more parts of his history were revealed. In 2008, Phillips attacked a man, slashed his tires, and threw a woman's laptop.
Phillips was said to have caused "visible bodily harm" and "cuts and bruises to the head and torso" of the male victim. He was arrested on charges of battery and felony criminal damage; before going to trial, Phillips pleaded guilty to lesser charges of criminal trespassing and battery. He was sentenced to three years of probation, 50 hours of community service, and a $1,567 fine, but Phillips got off with a year of probation after early release. That same year, Phillips allegedly pointed a gun at a woman. He was arrested on one charge of simple assault and battery, but the charges were dropped after Phillips completed pre-trial counseling.
Amid Tucker Carlson's campaign to whitewash the violent January 6 riots, Collins, who seems to be a benefactor of lenience from the criminal justice system, has also demanded the release of January 6 attackers.
One could suggest Collins stay in his lane—whether it be trucking, or getting elected off of tons of corporate cash—but it seems like he ought not to be trusted in those ones either.