Clarence Thomas's Luxury Vacations Are Paid for by a Republican Megadonor
The Supreme Court justice has traveled the world on superyachts and private jets courtesy of Harlan Crow.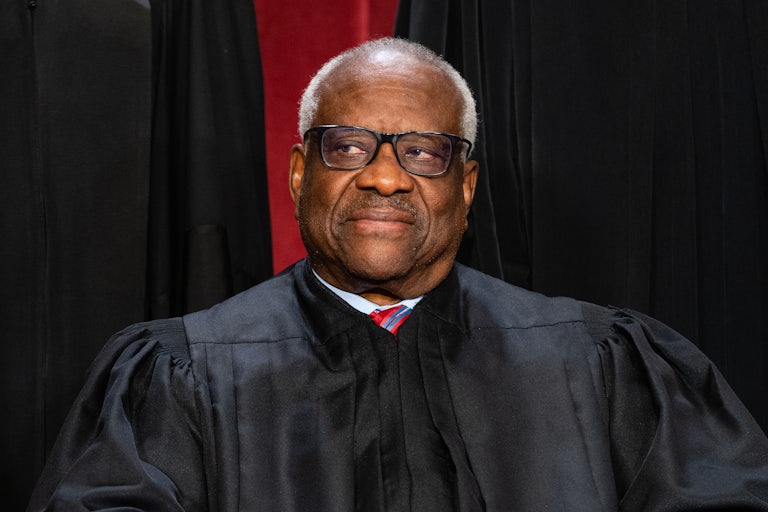 Eric Lee/Bloomberg/Getty Images
Supreme Court Justice Clarence Thomas has spent decades secretly enjoying lavish island-hopping excursions on superyachts and on-demand private jet rides courtesy of a billionaire Republican megadonor, ProPublica has revealed.
Harlan Crow, a real estate tycoon, reportedly has gifted Thomas an array of luxurious trips "virtually every year" for more than 20 years, including a nine-day adventure in Indonesia on a yacht staffed with attendants and a private chef, as well as visits to Crow's exclusive "all-male" retreat in California, his Texas ranch, and his private resort in the Adirondacks.
And Thomas disclosed none of it. While the gifts themselves are permissible, shockingly, ProPublica notes that Thomas's failure to disclose them violates a law passed after Watergate that applies to justices, judges, members of Congress, and other federal officials.
The warm relationship between Thomas and Crow began some three decades ago, and Crow wasted no time in showering Thomas with gifts. One of the first, which Thomas did kindly disclose, was a $19,000 Bible originally owned by Frederick Douglass. The gift giving has continued ever since—and not just to the justice. Thomas's wife, Ginni, joined many of the trips—such as the Indonesian jaunt—and as Politico revealed in 2011, Crow has given at least $500,000 to a Tea Party group she founded (and which later shut down).
This is hardly the first of the couple's ethical entanglements. Ginni Thomas was intimately involved in attempts to overturn the 2020 election, as revealed in texts with numerous officials, including Trump chief of staff Mark Meadows. In January 2022, her husband was the only justice to vote against ordering the release of the paper trail of such communications.
The New Yorker's Jane Mayer reported that same month that Ginni Thomas "has held leadership positions at conservative pressure groups that have either been involved in cases before the Court or have had members engaged in such cases." The following month, The New York Times Magazine described "the extent to which Justice Thomas flouted judicial-ethics guidance by participating in events hosted by conservative organizations with matters before the court."
That was enough for TNR to crown the couple "Scoundrels of the Year." As editor Michael Tomasky wrote last December, "No one has damaged the Supreme Court's reputation more than the Thomases. It's one thing to have a hard-right ideology.… But to impose that vision on the democracy while flouting its rules, which literally every other Supreme Court justice has followed? That shows contempt for the democracy they tell themselves they are saving, and it announces to the rest of us that nothing is more important to Clarence Thomas than using his remaining time on the court, and this earth, to do as much as he can—with Ginni surely egging him on—to force his extremist agenda on us."