Uvalde Cops Admit AR-15 Scared Them From Saving Children
Republicans have consistently downplayed the dangers of the weapon that police fear the most.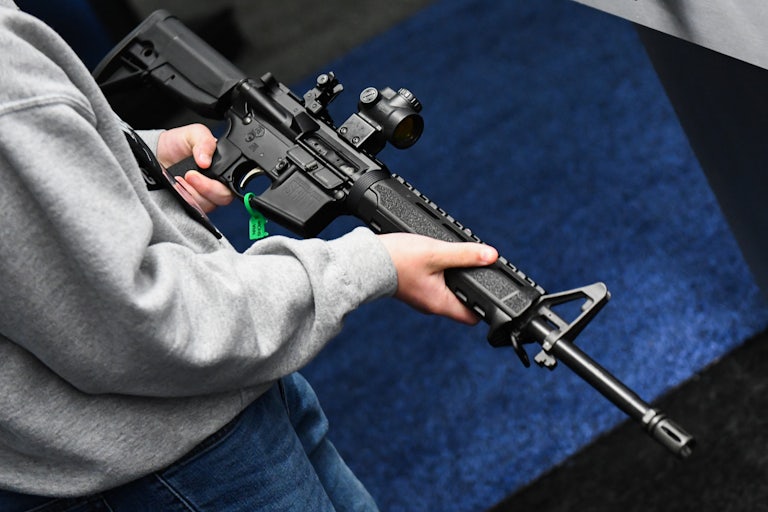 Patrick T. Fallon/Getty Images
"You knew that it was definitely an AR. There was no way of going in.… We had no choice but to wait and try to get something that had better coverage where we could actually stand up to him." This is what Uvalde Police Department Sergeant Donald Page admitted in an interview with investigators after the elementary school shooting that upended the community of Uvalde, Texas.
Last May, an 18-year-old, after shooting his grandmother in the face, infiltrated Robb Elementary in Uvalde, killing 19 kids and two teachers, leaving another 17 injured.

"We weren't equipped to make entry into that room without several casualties," Uvalde Police Department Detective Louis Landry admitted in another investigation interview. "Once we found out it was a rifle he was using, it was a different game plan we would have had to come up with. It wasn't just going in guns blazing, the Old West style, and take him out."

The alternative to "the Old West style," as the world saw, was nearly 400 law enforcement officers responding to a scene that let the shooter roam through the school halls for over an hour and 10 minutes, leading to the third-deadliest school shooting in America.

The Tribune notes that such hesitation in the face of an AR-15 had led police in other shootings—including at Stoneman Douglas High School in Parkland, Florida, and at the Pulse nightclub in Orlando—to respond less quickly.

Republicans, both in Texas and nationally, have opposed banning or further regulating weapons like the AR-15—even now as police officers themselves admit how dangerous the weapons are. Governor Greg Abbott derided even raising the minimum age to buy assault-style rifles from 18 to 21 years old as "unconstitutional." Meanwhile, gun trade shows are blithely promoting guns like the "JR-15," as on-ramp weapons for elementary-aged children.

Naturally, the debate over these weapons should not have progressed to the point where we're learning something as obvious as: "Look, even the cops understand how petrifying these murder machines are." If our governing structures were actually responsive to the concerns and fears of the people, one mass shooting would have been enough. The ruthless taking of innocent people—at a mall, the movies, school, the grocery store—should've been enough to bring some sort of change.

"(Police) knew the monster behind the door was not the kid. It's the rifle the kid is holding," said Jesse Rizo, who lost her 9-year-old niece Jackie Cazares in the shooting. "It's the freaking AR that they're afraid of.… Their training doesn't say sit back and wait."

If nothing else, the tapes revealed by the Tribune point to a matter of larger importance: Stronger gun regulation would protect police officers (and maybe also make them less reactionary-minded, not having to treat everyone as an existential threat), just as much it would help keep everyone else safer.