Chicago Mayoral Candidate Brandon Johnson Gains Steam With Key Democratic Endorsements
Support for Johnson seems to be growing ahead of the April runoff.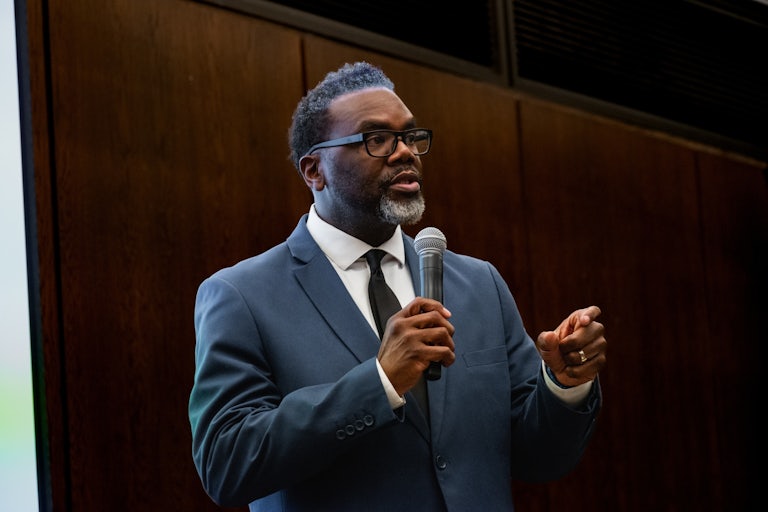 Tyger Ligon/Shutterstock
Chicago mayoral candidate Brandon Johnson
Chicago mayoral candidate Brandon Johnson is surging. Polls are tightening. A broad coalition of labor, women's rights, and LGBTQ advocacy groups are throwing their support behind Johnson. And this week, he has earned endorsements from Senators Bernie Sanders and Elizabeth Warren, Representative and Democratic kingmaker Jim Clyburn, and Representative and former opponent Chuy Garcia.
The endorsements come alongside reports indicating growing support for Johnson's candidacy ahead of the April runoff. A poll conducted this week showed Johnson leading his opponent, pseudo-conservative Paul Vallas, 46–44. The first two polls conducted after the general election last month showed Vallas leading Johnson by 9 and 11 points, respectively. Johnson's steady rise mirrors his path during the general election, as his performances on the debate stage and on the campaign trail gradually earned him more support.
Johnson's performance is all the more notable in Chicago, where crime has pervaded as a main issue throughout the entire race. Question after question in debates—whether about transportation, education, housing, and so on—has been framed through the lens of crime. But Johnson has not taken the bait, insisting on reimagining public safety. "This so-called toughness that politicians or insiders have just been recycling over the past 40 years has failed us—in the most dramatic of ways," Johnson told TNR in January.

Johnson has remained consistent even as national Democrats have taken the bait on right-wing crime narratives. Earlier this month, 33 Senate Democrats and 31 House Democrats, led by Biden himself, voted with Republicans to overturn modest criminal justice reforms in Washington, D.C. Johnson, however, has stuck to his vision to invest in a more holistic approach to public safety: affordable housing, mental health services, year-round youth opportunities, and more. And the message has resonated enough with local groups, from unions to advocacy organizations, to build a wide enough coalition that earned trust from both Sanders and Clyburn.
Vallas, meanwhile, has come under fire for being further right than he lets on. The Chicago Tribune found Vallas's Twitter account had liked several tweets that "used racist language, supported controversial police tactics like 'stop-and-frisk' or insulted the mayor in personal terms." The Chicago Sun-Times reported Vallas once described himself as "more of a Republican." And he has also come under scrutiny for his close relationship with the Fraternal Order of Police, as well as his previous role as a school superintendent in Louisiana, during which time he helped flip virtually all schools in New Orleans into charter schools, some of which reportedly discriminate against disabled students.
It is just some two weeks away from the runoff election. If Johnson continues his climb and Vallas can't find a way to break free from all that plagues his campaign, Chicago voters may yet show America their hunger for a new vision of politics.