Texas Senate Votes to Defund Public Libraries That Host Drag Storytimes
Two bills passed by the Senate would further restrict drag performances in the state.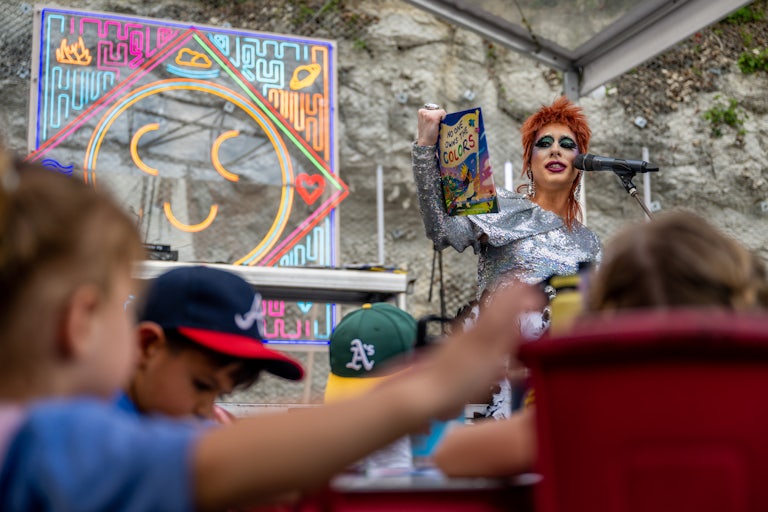 Brandon Bell/Getty Images
Drag Queen Ona Louise reads a book during a story time reading at the Cheer Up Charlies dive bar on March 11 in Austin, Texas.
The Texas Senate passed a double-whammy of bills attacking drag performances and the businesses that host them, the latest attempt by Republicans to criminalize drag.
Senate Bill 12, which passed Tuesday by a vote of 21-10, would criminalize drag performances that occur or could occur in front of a minor if they appeal to "prurient interest" or of a sexual nature. Performers could be charged with a misdemeanor, while any business that hosts the show would face a $10,000 fine. Two Democrats joined Republicans in voting for the bill, although one later switched his vote.
Senate Bill 1601 passed by a vote of 20-9, with the same two Democrats joining Republicans. The measure would defund public libraries that host drag storytimes (events where drag performers read to children). The bill does not mention "prurient interest" and so would apply to any event where "the person being dressed as the opposite gender is a primary component of the entertainment." This means that a female librarian dressed as the wizard Gandalf, for example, could be banned.
Democrats slammed the bill for being overly broad, which could result in unintended consequences. Senator Roland Gutierrez pointed out that pop star Miley Cyrus has dressed "as a man" and danced sexually during her performance. Under the bill, her shows could be banned.
Gutierrez, who represents Uvalde, where 19 children and two adults were killed in a school shooting last summer, pointed out that Republicans could protect children by passing stricter gun laws instead of drag bans.
His remark prompted cheers from people watching in the gallery, but the Republican Senate president warned Gutierrez that if he didn't stick to the topic of the drag bills, he wouldn't be recognized to speak again.
The bills now move to the House of Representatives. They are just the latest measures throughout the country attacking drag performers, who have increasingly become a target for right-wing bile, with attacks ranging from drag storytimes at public libraries to police investigations.

Tennessee was the first state to pass a law banning drag performances in public, although the measure was blocked by a federal judge at the eleventh hour. Florida's Senate committees have approved a bill that would ban drag performances in public, including at Pride celebrations, and punish businesses that host such shows. And Montana's Senate Judiciary Committee heard a bill Tuesday that would ban drag in public and label any business that hosts a drag show as a "sexually oriented business."