Don't Let the Media's Trump Fixation Distract You From These Local Threats to Democracy
Bills attacking civil rights are working their way through state legislatures in Tennessee, Texas, Florida, and more.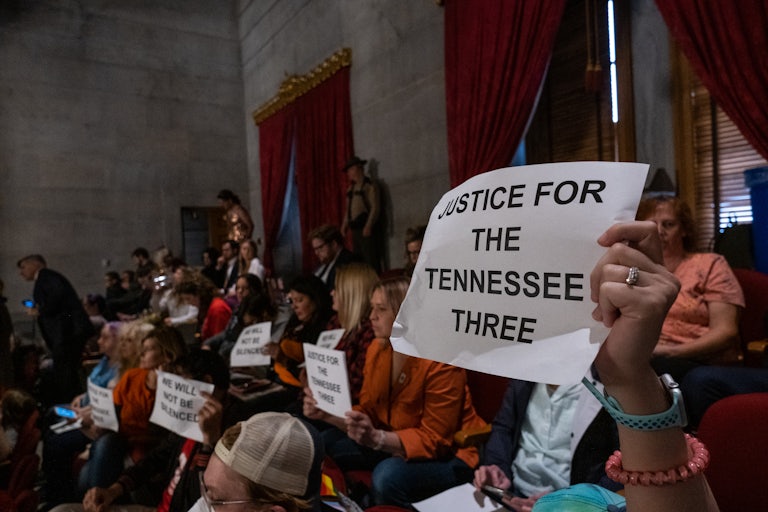 Seth Herald/Getty Images
Protesters demand gun control at the Tennessee State Capitol on April 3, following a mass shooting in Nashville.
Amid a news cycle closely monitoring every one of Donald Trump's moves—from the color of the SUVs in his motorcade to the post-arrest merch he was selling—it was easy to miss the serious, local threats to democracy happening across the country this week.

On Tuesday, the twice-impeached former president officially surrendered to arrest for a hush-money payment to a porn actress with whom he allegedly had an extramarital affair. And while this is a major news story, mainstream media's live feeds were so focused on Trump it would've been difficult to not know when he was going to the bathroom.

Meanwhile, across the country, Republicans in state legislatures have continued their march against civil rights.
In Tennessee, the Republican-led state House is pushing to expel three Democratic lawmakers on the grounds that they broke "decorum" by interrupting proceedings to advocate for students protesting gun violence. Thousands of students, parents, and residents have been protesting in the state in the wake of a mass school shooting in Nashville that left three children and three adults dead.
On Monday, as protesters entered the House chamber and chanted from the gallery, demanding lawmakers' attention, a much more real breach of "decorum" occurred on the House floor. Republican Representative Justin Lafferty—known for defending the three-fifths compromise—reportedly shoved Representative Justin Jones, one of the lawmakers facing threat of expulsion.
Jones and his fellow under-attack representatives have already been stripped of committee assignments and membership ID access for committing the high crime of caring about kids being shot dead at school. The vote to expel them from the legislature comes Thursday.
Meanwhile, attacks against women, trans people, and the LGBTQ community generally have continued to escalate.
In Florida, the state Senate passed a bill that would allow the state to take children away from their parents or guardians if they receive gender-affirming care. Health care providers who provide that treatment to people under the age of 18 would lose their license and could face felony criminal penalties. The bill also forbids any public money from covering gender-affirming care.

The bill's passage comes just one day after the Florida Senate passed an extreme six-week abortion ban that could cut off abortion access for much of the South. Top Democratic leaders were arrested hours later during a protest for abortion rights.
In Idaho, Governor Brad Little signed a bill that bans trans kids under the age of 18 from accessing gender-affirming care. Doctors who provide such crucial care could be charged with a felony and face up to 10 years in prison.
In Texas, state senators also passed a bill to ban gender-affirming care for patients under the age of 18, similarly calling to revoke the licenses of doctors who do provide the care, and barring public money from any entities that provide the treatments. They also advanced two bills targeting drag shows, one of which would go so far as to defund public libraries where drag queens are allowed to read to children.
During the debate on those bills, Lieutenant Governor Dan Patrick threatened to silence Democratic state Senator Roland Gutierrez for continuing to speak about how gun legislation, not banning drag shows, should be a priority if they want to protect children. Gutierrez represents Uvalde, where 19 kids and two teachers at an elementary school were shot dead last May.

In Kansas, the Republican-led legislature passed a bill to ban transgender people from using public bathrooms or even being able to update their name or gender on their driver's license.
And finally, in North Carolina, Democratic state lawmaker Tricia Cotham flipped her party affiliation, giving Republicans a veto-proof majority against Democratic Governor Roy Cooper. Cotham has previously attacked Republicans on abortion, saying, "My womb and my uterus is not up for your political grab." She herself has had an abortion, but since flipping parties on Tuesday, Cotham has said she is open to supporting restrictions on the procedure.
As conservative lawmakers continued their assault on civil rights across the country, voters themselves showed how differently they see things. In Chicago, voters elected Brandon Johnson—an unapologetic progressive, labor organizer, and former public school teacher—as mayor. In Wisconsin, voters overwhelmingly elected Democrat Janet Protasiewicz, flipping the state Supreme Court for the first time in 15 years. Such an occasion is all the more notable given that the court is set to address major cases on Wisconsin's abortion ban and the heavily gerrymandered maps that have kept conservatives in control of the swing state since 2010.

But how can the mainstream media cover any of this when it is so obsessed with covering the minute-by-minute movements of a man who has been impeached twice, lost the election, and has since been arrested?

These local battles deserve the granular television play-by-plays, not the angry man whose politics keeps losing at the ballot box, who's under an array of criminal investigations, and whose rambling speeches are so boring even some major news networks are finally choosing to cut away.