Tennessee Republicans Expel Two Democrats From the Legislature for Protesting Gun Violence
The GOP-led House has a very twisted definition of "decorum."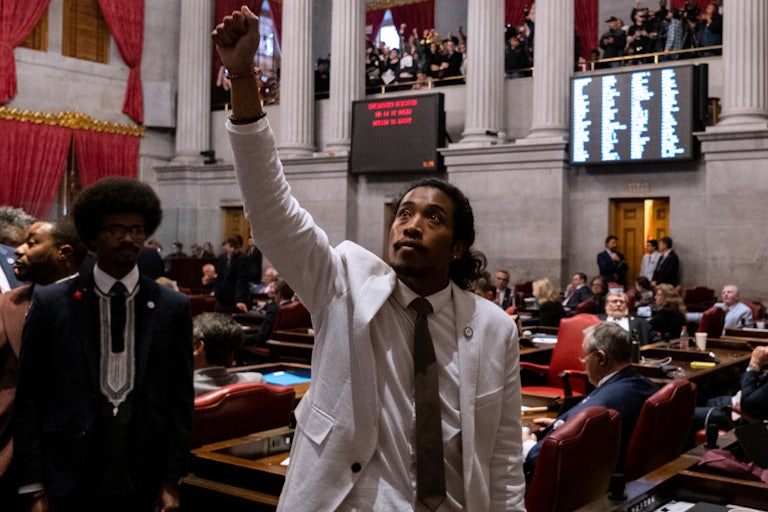 Seth Herald/Getty Images
Democratic state Representative Justin Jones of Nashville during a vote on his expulsion from the state legislature on April 6
The Republican-led Tennessee House of Representatives voted Thursday to remove two Democratic lawmakers from office for breaking "decorum" by interrupting the chamber's proceedings to draw attention to gun reform.
Representatives Justin Jones and Justin Pearson, who are both Black, are now the first lawmakers in state history to be expelled by the opposing party, in nearly party-line votes. A third Democrat, Gloria Johnson—who is white—survived an expulsion vote. Asked about the discrepancy by a reporter, Johnson responded that "it might have to do with the color of our skin."
The votes come amid protests by gun-control advocates against Tennessee lawmakers in the wake of the Covenant School shooting that left three children and three adults dead. Last week, as thousands of protesters outside the Capitol building demanded gun reform, the three Democrats walked up to the well of the House and began chanting "No action, no peace" through a bullhorn.
Republicans charged the trio with breaking "rules of decorum," but the Democrats said they only walked up to the well after being repeatedly silenced by Republican House Speaker Cameron Sexton. They say their mics were cut off throughout the week whenever they tried to speak about gun violence or about the thousands protesting right outside the building. On a Tennessee radio show last week, Sexton called the trio's actions an "insurrection." (One of Sexton's former colleagues, then-Representative Terri Lynn Weaver, attended the actual January 6 insurrection but was not expelled from the legislature.)
On Monday, all three representatives were stripped of their committee assignments and had their membership IDs disabled.
During Thursday's vote, Jones pointed out that numerous other members of the House have avoided expulsion while committing far more severe violations, including child molestation:
The tolerance for other violations seems to have continued even this week.
On Monday, Republican Representative Justin Lafferty—who once defended the three-fifths compromise—reportedly shoved Jones, who is Black, on the floor of the House. The assault occurred while protesters entered the chamber and chanted from the gallery. Lafferty and Jones were both recording the scene on their phones. Lafferty then turned toward Jones and appeared to shove him. A voice is heard in Jones's video saying, "Hey, get your hands off me." Lafferty has not been charged with any breaching of "decorum."
Before Thursday's votes, the Tennessee House did advance some "safety" and mental health–related bills; none dealt with gun regulation, and none confronted more systemic issues surrounding violence prevention. Back in 2020, Tennessee Republicans shut down a red flag law that in fact could have stopped the Covenant School shooter. The following year, Governor Bill Lee signed legislation allowing people 21 and older to openly carry handguns without permits. Since then, state Republicans have been looking to expand the right to people as young as 18—and for any firearm, not just handguns.