Trump's 2024 Rivals Are Too Scared to Criticize Him Post-Indictment
Are they even running against him?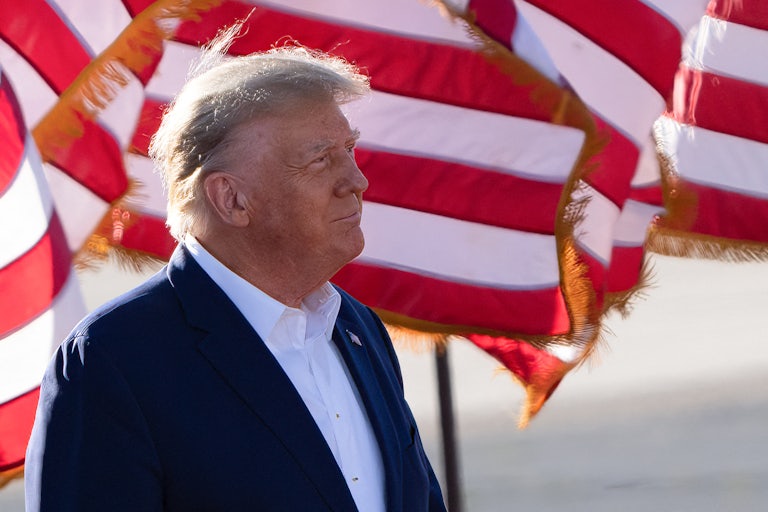 SUZANNE CORDEIRO/AFP/Getty Images
If you're running for president, and your opponent gets criminally indicted for using a shell company to buy a porn actress's silence about an alleged affair he had right after his wife gave birth, you'd probably pounce on that—right? Or, at least, express some neutral statement about the importance of the rule of law? Well, if so, you aren't running for the 2024 Republican primary nomination!
After the news of Donald Trump's indictment on Thursday, not a single one of his Republican rivals—announced or rumored—dared criticize the twice-impeached and now formally criminally indicted former president.
Former South Carolina Governor and Trump's Ambassador to the United Nations Nikki Haley appeared on Fox to complain that the indictment is just a matter of "revenge" and "political points" rather than justice. "I think the country would be better off talking about things that the American public cares about," she continued, as if the public does not care about the powerful being held even somewhat accountable for their misdeeds.
Multimillionaire Vivek Ramaswamy, almost immediately after the indictment announcement, released a presumably prerecorded video calling it a "dark moment in American history" and warning that "we may be heading on our way to a national divorce." Ramaswamy suggested that an alleged criminal being indicted for some reason resembles a "banana republic."
As far as rumored candidates, the prospects were no better.
Former Vice President Mike Pence—whose life was directly threatened on January 6, 2021, by rioters whipped up by Trump himself—called the indictment an "outrage" and "political prosecution." When CNN's Wolf Blitzer pushed back, saying that a grand jury of 23 people voted to advance the indictment, Pence dismissed the notion. "Been a long time since I was in law school, Wolf, but I remember the old saying, 'You can indict a ham sandwich,' right?"
Florida Governor Ron DeSantis, Trump's toughest competition thus far (despite not having announced yet), peddled an ongoing antisemitic conspiracy that Jewish philanthropist George Soros is directing the entire indictment. He went on to say he would refuse to assist in extraditing Trump to New York, which is unconstitutional. (Given his authoritarian record, it's unsurprising that DeSantis would be so eager to flout basic principles on justice.)
Former Secretary of State Mike Pompeo echoed DeSantis's gross claims, falsely calling Manhattan District Attorney Alvin Bragg a "Soros-funded prosecutor."
South Carolina Senator Tim Scott called the indictment a "travesty" that "should not be happening in the greatest country on Earth."
Virginia Governor Glenn Youngkin said the indictment was delivered "on a manufactured basis."
Former Arkansas Governor Asa Hutchinson had perhaps the best statement out of the pack, and still it amounted to hedging on all accounts. "While the grand jury found credible facts to support the charges, it is important that the presumption of innocence follows Trump," he said, adding that Trump's case ought to be approached in the same way the justice system works "for thousands of Americans every day." But then he went on to add that though "Donald Trump should not be the next President," that decision should "be made at the ballot box and not in the court system."

Hutchinson's statement represents a broader realization that he and other Republicans are not internalizing: You're damned if you do, damned if you don't! As things stand now, Trump is leading the primary field. The candidates could continue to refuse to criticize Trump. Or they could decide to not go down in history as embarrassingly submissive, and go on the record saying he simply shouldn't be president. They are running against him, after all, which means they want him to lose, right? Trump may win the primary anyhow—but by failing to make the case at all, they almost guarantee he will.
For a party that purports to care about the "battleground of ideas," not a single Republican candidate is trying to make a case for a different path forward—to voters, or really even to themselves.