Tennessee Republicans' Power Grab Has Been in the Works for a Long Time
Even before they expelled two Black Democratic lawmakers, Republicans were using their supermajority to undermine democracy.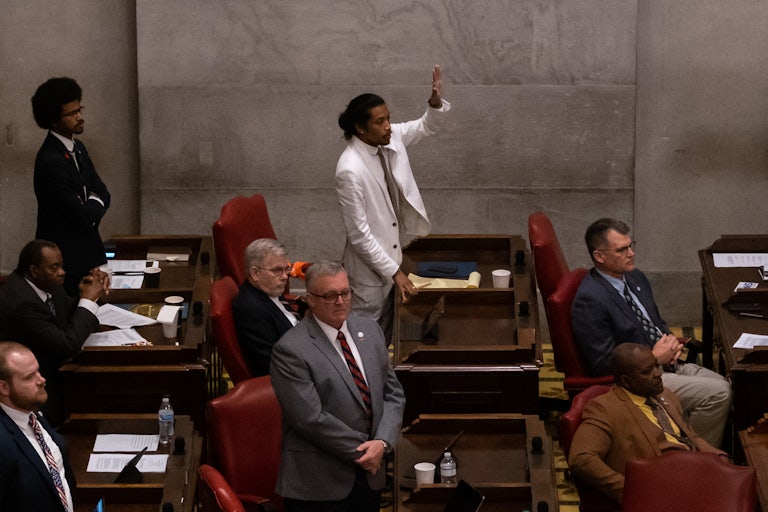 Seth Herald/Getty Images
Democratic Representatives Justin Pearson of Memphis and Justin Jones of Nashville at the State Capitol Building on April 6, before they were expelled from the state legislature.
Last week, Tennessee Republicans expelled two Black Democratic lawmakers, Justin Jones and Justin Pearson, for standing in solidarity with the thousands of people demanding gun reform after the Nashville school shooting that left three children and three adults dead. What many have rightfully derided as an anti-democratic action seems to be more of a symptom of a broadly poisoned state legislature, in which Republicans are using their supermajority to make their own rules at whim.
An investigation conducted before last week's drama from Nashville-based NewsChannel5 revealed how Tennessee Republicans have introduced legislation with no notice to the public, denied roll call votes on bills, and killed bills on the basis that their side apparently sounded louder in voice votes.
In so doing, they've shut down even the most inoffensive Democratic-led bills, like one that would direct schools to inform high schools seniors how to register to vote, or another that would study whether college ID cards could be used for voting.
"You have committee chairs single-handedly deciding whether bills live or die. Is that democracy?" NewsChannel 5's Phill Williams asked Republican House Speaker Cameron Sexton, who responded by insisting that there's no problem.
Yet a problem there is.
On the college student ID bill, pushed by the now-expelled Representative Jones, Republican Elections and Campaign Finance Subcommittee chair Tim Rudd gavelled the vote as a "No" before the voice vote was even finished. Such brazenness certainly cuts against the already condescending charges made by some Republicans last week that members like Jones and Pearson were complainers and not legislation pursuers.
NewsChannel5 gave Rudd the opportunity to explain why he killed the bill before even hearing the vote. "I don't know what you're talking about," Rudd said twice, with not an ounce of shame of what was clearly seen on camera.
Another bill, advanced by local students, that would've directed high schools to guide students on how they could register to vote, was denied a roll call vote by Republican Local Government chair John Crawford on the basis that the committee had already voted on an amendment to the bill.
House rules explicitly state that "a roll call vote shall be taken at the request of the sponsor of the bill or resolution under consideration."
On the voice vote, it sounded to many in the room like the "Aye's" had won. Crawford, however, deemed that the "No's had it."
"Democracy is dead here in Tennessee as it stands right now," said House Democratic Caucus Chair Vincent Dixie, who sponsored the bill.
Tori Venable, from the libertarian group Americans for Prosperity, told NewsChannel5 how, with the House voice votes, a vote having "sounded one way, [can go] another way," all by the unchecked discretion of the Republican majority.
On the student voter registration bill, Dixie had also attempted to file an amendment clarifying some language, but Crawford deemed it "untimely" and unacceptable. When NewsChannel5 asked about the rationale, Crawford talked himself in circles, first claiming that if someone makes a motion and gets a second, then he wouldn't have a choice but to take it to a vote. When the local reporter pointed out that Dixie had received a second on his motion and Crawford had still denied the motion, Crawford then justified himself by saying, "Well, I said, We don't take up any untimely filed amendments.' We hadn't taken any up to that point all year long."
Two weeks later, House Speaker Sexton filed a last second amendment to a bill that no one else had seen. In this "untimely" scenario, Crawford gladly gavelled it through.
Contrary to Crawford's claims, NewsChannel5 noted that their investigation found numerous other cases in which Republican chairs readily accepted late filed amendments the public had never seen.
"This is not democracy as far as I'm concerned," said Democratic Representative Gloria Johnson, who survived her own Republican-led expulsion threat last week by just one vote.