California Is Not "Done" With Walgreens After All
Governor Gavin Newsom's plan to stop doing business with the pharmacy chain has crashed into a legal wall.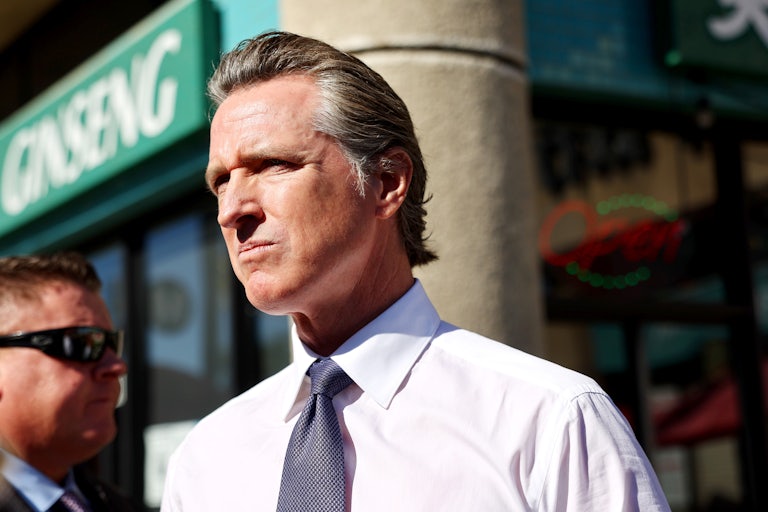 Mario Tama/Getty Images
California Governor Gavin Newsom
As it turns out, California cannot cut ties with pharmacy chain Walgreens.
Governor Gavin Newsom announced last month that his state would cease to do business with Walgreens because the pharmacy chain decided not to dispense abortion pills in nearly half of U.S. states following pressure from Republican attorneys general. Medication abortions make up more than half of all abortions in the United States and are considered a crucial tool in maintaining access to the procedure since Roe v. Wade was overturned.
But California legally has to maintain ties with Walgreens because of the state's Medicaid program, Kaiser Health News reported Thursday, citing health law experts.
Medi-Cal provides health coverage for about 15 million people. Federal law states that patients can get their Medicaid-covered prescriptions at any approved pharmacy. Had California abruptly stopped covering Medi-Cal prescriptions filled at Walgreens locations, it would have broken federal law. This also would also have contradicted a key part of Newsom's platform: to expand Medi-Cal as much as possible.
The Newsom administration said it will "continue to comply" with federal law by keeping its partnership with Walgreens. Gubernatorial spokesperson Anthony York said Newsom will not "take any action that hurts people who need access to care."
Walgreens had said in January that it would offer mifepristone, one of the medications used to induce an abortion. The Food and Drug Administration changed its rules to allow pharmacies in states that still allow abortion to dispense the drug. Pharmacies would need to get certified to do so because the FDA currently classifies mifepristone as a high-risk drug, despite the fact that there is no data backing that decision up.
Walgreens and CVS, two of the biggest U.S. pharmacy chains, said they would seek certification. But in March, following intense pressure from Republican attorneys general in 20 states, Walgreens announced it wouldn't dispense mifepristone in those states—and threw Kansas in there for good measure, too.
The chain has said it will dispense mifepristone "in any jurisdiction where it is legally permissible to do so." Abortion is still legal in more than half of the states where Walgreens will no longer offer the drug, but the company said in a statement to TNR that some of those states don't allow pharmacists to dispense mifepristone. "Failure to follow these state laws could result in individual pharmacists facing very real and serious legal risk, including criminal charges that could lead to jail time, steep fines and the loss of their license by state boards of pharmacy," the company said.
In February, Newsom slammed Walgreens for its decision and said the chain "cowers to extremists and puts women's lives at risk." He said California was "done" with Walgreens but did not clarify what he meant. It now appears that was never an option.
This article has been updated to clarify Walgreens' position.