Chicago Voters Do Care About Crime. That's Why They Voted for Brandon Johnson.
Brandon Johnson offered voters a new way to think about public safety.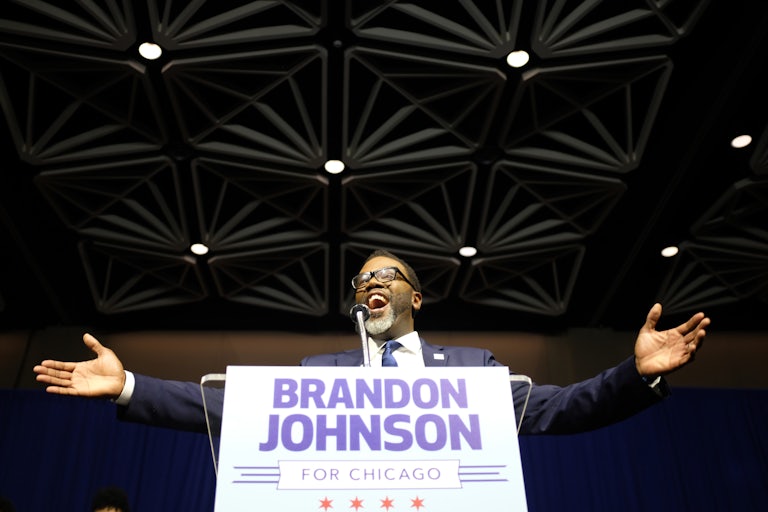 Alex Wroblewski/Getty Images
Ever since Brandon Johnson began to ascend in the Chicago mayoral election, armchair experts hammered away at the notion that his campaign was "dogged" by issues surrounding crime. The thinking was that a candidate who has called for a reimagination of public safety is inherently signing up for an uphill battle, and cannot win without changing that vision.
Chicago voters proved those national pundits wrong on Tuesday when they elected Johnson to serve as their next mayor. Presumably, as the people actually living in Chicago, they chose someone who they thought would keep them safe. So it's worth revisiting those media narratives on crime and the baked-in assumptions beneath them—in the hopes that fewer people in the media will participate in these narratives, or that they'll even just let them slide.
The main argument seems to be encapsulated in a New York Times headline on Johnson's victory: "Brandon Johnson Elected Chicago Mayor, Turning Back Tough-on-Crime Opponent."
Other stories perpetuated the idea that only one of the two candidates would be "tough" on crime.
In March, a Politico story read that "some in the [Democratic] party" believed that neither Vallas and Johnson were "particularly compelling." But the story went on to quote Paul Vallas adviser Joe Tripp, who said, "You do have someone who has talked about defunding and I just don't know why any national people would get into that debate."
Another New York Post story postured Vallas as the only anti-crime candidate—which would, of course, imply that Johnson is somehow "pro-crime," rather than someone proposing a different vision of how to be "tough" on crime.
"Look what happened in Chicago," Democratic consultant James Carville told NBC News in early March, arguing why crime was the "front and center issue" that Democrats should be tackling. Carville seemed to be referring to the ousting of incumbent Mayor Lori Lightfoot and success of Vallas, as if Johnson wasn't also still in the running for mayor.

Yet another Axios story boldly proclaimed, "'Defund the police' dogs Chicago mayoral candidate Brandon Johnson."

The story, which did not include thoughts from voters actually interested in Johnson's candidacy, focused on comments he made in 2020 expressing support to "redirect and defund the amount of money that is spent in policing." The story was published a day after Johnson had modulated his earlier comments, saying in a debate that he would not defund the police.
But Johnson still maintained the broader spirit of his vision, one that he has spent months proposing to the public. In January, he told TNR that the best way forward for Chicago is to invest more in mental health, housing, year-round youth employment opportunities, and the like. He envisions deeper crime prevention, rather than just carceral crime response.
You wouldn't have picked up on that from all the stories published on Johnson's supposedly uphill campaign, all the result of assumptions—constructed and affirmed, year after year—about what it means to stop crime.
We are quick to deem throwing cash haphazardly at the police or building more jails as solutions; we are less conditioned to imagine preventing crime as meaning to ensure people feel economically secure, mentally healthy, or able to pursue a solid education. The default mindset persists even as our political and media apparatuses archetypically frame a "criminal" as poor, or mentally unstable, or uneducated.
But again, Chicago voters—like all voters—care about preventing crime and cultivating safe and healthy communities. They just happened to look past the media narratives that suggested that such a vision could only be accomplished in one way (a way that has not seemed to work despite its primacy the last few decades). And in looking past such lazy narratives, and holding onto their sincere hopes for a stronger Chicago, the people elected Brandon Johnson.