Kentucky Made It Easier to Evade Federal Gun Laws Days Before Louisville Shooting
Kentucky declared itself a "Second Amendment sanctuary state" and rolled back gun control restrictions.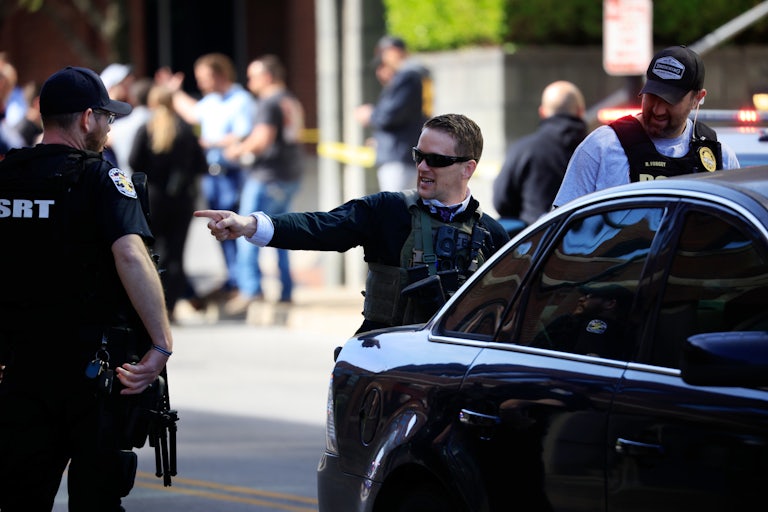 Luke Sharrett/Getty Images
Law enforcement officers respond to an active shooter at the Old National Bank building on April 10 in Louisville, Kentucky. According to reports, there are multiple fatalities and casualties.
Less than two weeks before Monday's mass shooting at a bank in downtown Louisville, the state of Kentucky banned local law enforcement agencies from enforcing federal firearm laws.
The bill makes Kentucky a so-called "Second Amendment sanctuary" and prohibits local, state, or campus authorities from enforcing federal bans or regulations related to firearms, ammunition, or firearm accessories. It applies to any laws or regulations enacted since January 1, 2021.
On March 28, the bill became law after the Republican-led House and Senate overwhelmingly pushed it through, and Democratic Governor Andy Beshear neither signed nor vetoed the legislation, allowing the bill to become law.
And on Monday, at least five people were killed and another eight injured in a mass shooting.*
Kentucky's law could counter regulations in the Bipartisan Safer Communities Act, passed in the aftermath of the Buffalo supermarket and Uvalde elementary school shootings. Some of the regulations in that law include: banning people from buying guns if they had committed a disqualifying crime while under the age of 18; banning anyone from buying guns if they were found guilty of a domestic violence charge in a romantic relationship (regardless of marital status); and banning people from buying guns on behalf of criminals, terrorists, drug dealers, or people who are prohibited by law from receiving a gun.

Kentucky's new law could be weaponized to stop such federal regulations on firearms, as well as any future gun control legislation or executive orders from the Biden administration.

Kentucky Republican Representative Savannah Maddox called the bill blocking even modest federal gun regulation "a step in the right direction" but added that "there is more work that needs to be done by our Republican Supermajority."

So-called Second Amendment sanctuary laws have been deemed unconstitutional by numerous courts, most recently by a federal judge who struck down a similar policy in Missouri.

Meanwhile, the Kentucky legislature has been considering a slew of other pro-gun bills.
House Bill 542, also pushed by Representative Maddox, seeks to prevent colleges from passing any policies that ban people 21 years and older from carrying a concealed weapon on campuses. The bill would have overturned standing policy at every public college in Kentucky. Maddox had quietly tried to sneak the proposal into what was originally a bill about "workforce development." Maddox has conceded the bill likely does not have enough votes for now to advance further, but it may gain future momentum after a similar bill succeeded and became law in West Virginia.
Another bill Maddox helped introduce in January would lower the age requirement for carrying a concealed gun from 21 to 18. And yet another she co-signed seeks to allow people to carry concealed weapons in schools.
Kentucky is not an anomaly. In Tennessee, a mass shooting occurred amid a concerted effort by state Republicans to loosen gun laws. Before a mass shooting left three children and three adults dead at a Nashville school, state Republicans passed a bill allowing people 21 and older to openly carry handguns without permits. Republicans there are now pushing to allow 18- and 19-year-old residents to carry any firearm—including weapons like AR-15s and shotguns—without permits.
The exact motives of the Louisville shooter are not yet clear. But in a society ravaged daily by mass shootings, in every possible segment of the public square, one would hope that there would be at least some movement toward lessening those incidents: making weapons of killing harder, not easier, to obtain; meaningfully increasing mental health and well-being support; creating a society where community and care, not isolation and individualism, are the norm.
But no, even while Monday's shooting in Louisville marks the 146th mass shooting in 2023, Republicans seem to be rolling full-speed ahead on running those numbers up.
* This article has been updated with the latest statistics in the Louisville shooting.