NRA CEO Says Politicians Who Don't Like Guns Should Go to Bed Afraid
Just a casual threat from the head of the NRA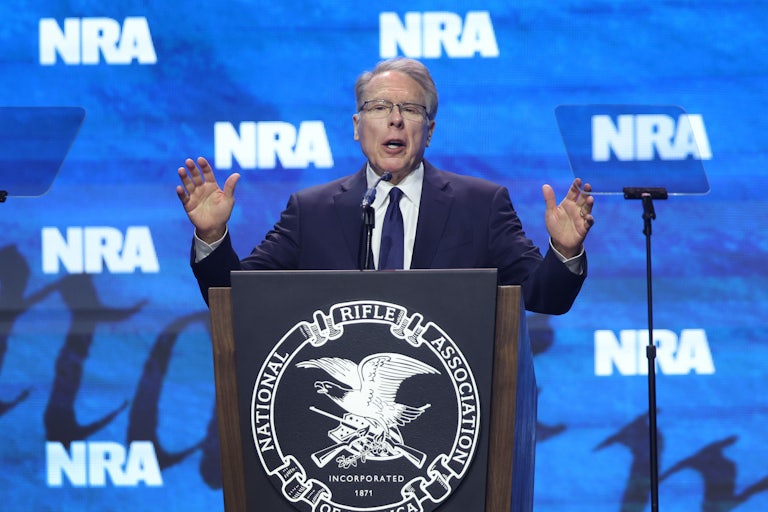 Scott Olson/Getty Images
NRA executive vice president and CEO Wayne LaPierre
The NRA's top executive, Wayne LaPierre, kicked off the organization's annual convention Friday by threatening pro–gun control politicians.
The National Rifle Association convention is taking place this weekend in Indianapolis, on the anniversary of one of the deadliest mass shootings in the city's history and on the heels of two major mass shootings in the last month.
"Gun-hating politicians should never go to bed unafraid of what this association and all of our millions of members can do to their political careers," LaPierre told the crowd, to cheers.
Elsewhere in the country, Republicans seem fully in thrall to gun rights (meaning, unfettered access to firearms). One of the most recent mass shootings was in Nashville, when a shooter killed three children and three adults at a private Christian grade school. Tennessee Governor Bill Lee initially hedged on increasing gun control, but he pulled an about-face earlier this week after thousands of protesters marched to the state Capitol to demand new legislation. Republican House Speaker Cameron Sexton indicated his party was willing to work toward "bipartisan solutions."
But on Thursday, House Republicans shot down a "red flag" bill that would prevent future shootings like the one at the Covenant School.