GOP Candidates Put Guns Over Lives, Pledging to the NRA After Mass Shootings
The truth on the Republican Party is simple.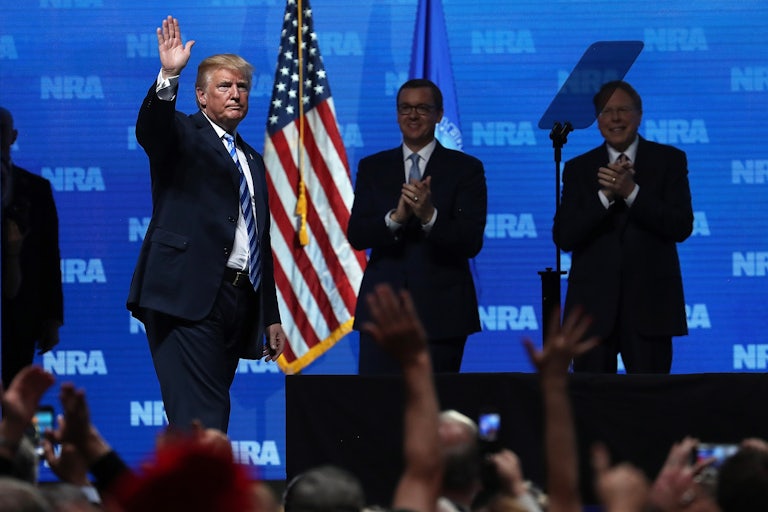 Justin Sullivan/Getty Images
Donald Trump at the NRA Annual Meeting and Exhibits in 2018
Every Republican running or rumored to be running for president is speaking to the National Rifle Association convention in Indianapolis, Indiana, beginning on Friday. The convention is taking place on the anniversary of one of the deadliest mass shootings in the city's history and follows two major mass shootings in the last month.
On March 27, a shooter killed three children and three adults at a private Christian grade school in Nashville, Tennessee. The shooting spurred thousands of residents to protest for days on end in support of gun safety measures and the Democratic lawmakers who were expelled for joining their protests. Two weeks later, on April 10, a shooter killed five people and left another eight injured in Louisville, Kentucky. These are just two of the more than 150 mass shootings in America this year.
Saturday, April 15 also marks two years since one of the deadliest mass shootings in state history, when a shooter killed nine people and injured another seven at a FedEx facility in the same city where the NRA is hosting its weekend convention.
Meanwhile, every Republican likely vying to lead this country is openly dishonoring the people killed, their families and friends, and every single person in America frustrated by government inaction on gun violence.
By video, the NRA convention will warmly welcome Florida Governor Ron DeSantis, former South Carolina Governor Nikki Haley, and South Carolina Senator Tim Scott. Donald Trump, Mike Pence, South Dakota Governor Kristi Noem, New Hampshire Governor Chris Sununu, Former Arkansas Governor Asa Hutchinson, and Vivek Ramaswamy will all be appearing in person, alongside other shameless Republicans.
It's not a matter of whether it's surprising that Republicans are tripping over themselves to satisfy the NRA. Sometimes the most stirring and instructive conclusions can be found in simplicity: Every single potential presidential candidate of a major political party is bowing down to the NRA in the wake of yet another pair of devastating mass shootings.

To call it depraved would be generous. The subservience that the Republican Party has to a group that insists upon making it as easy as possible for anyone to access tools used for killing is unworldly. The phrase "dodging a bullet" is becoming less a plain colloquial metaphor, and more guiding advice for anyone trying to do anything in public in the United States.