Supreme Court Protects Access to the Abortion Pill, for Now
Access to mifepristone will remain available while the legal battle plays out.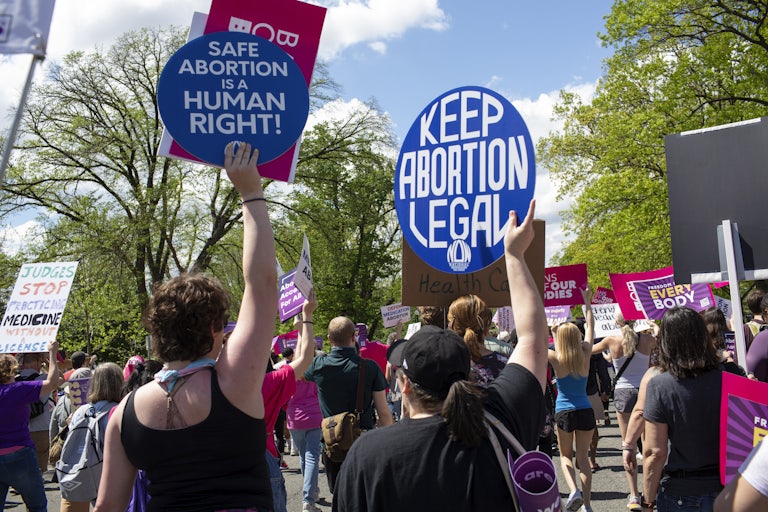 Probal Rashid/LightRocket/Getty Images
The Supreme Court on Friday halted lower court rulings that would have restricted access to the abortion pill mifepristone, leaving national access to the pill in place—for now.
A Texas federal judge ruled two weeks ago that mifepristone, one of the medications used to induce an abortion, had been improperly approved by the Food and Drug Administration and should be yanked from the U.S. market. The Department of Justice appealed the decision, first to the Fifth Circuit Court, which only partially stayed the ruling. The Justice Department then appealed the case to the Supreme Court, which issued a temporary administrative stay while it considered the appeal.
The high court has now decided to temporarily stay the Texas court's ruling. The court will issue a final decision on the abortion pill at a later time.
The stay means that nationwide access to mifepristone will remain unchanged as the lawsuit moves through the appeals process. The abortion pill is still available nationwide, without restriction.
Danco Laboratories, which manufactures mifepristone, had argued that a partial stay on the pill would "irreparably injure" its business because it would have to change its drug labels, recertify providers, and get approval for a supplemental new drug application, all processes that could take months. Danco also pointed out that it could not comply with both the Fifth Circuit ruling and the injunction out of Washington.
Medication abortions make up more than half of all abortions performed in the United States. These drugs can be ordered online and delivered via mail, making them a key resource for people who live in states that have cracked down on abortion access since Roe v. Wade was overturned last summer. The Supreme Court's decision Friday is a temporary relief to nationwide abortion access.
A bigger issue at play, though, is that nonelected judges who do not have medical backgrounds are now making decisions about medication. As Rachel Rebouché, the dean of Temple University's law school, previously told The New Republic, "The question for appellate courts is not just about abortion but about deference to a federal agency's expertise."
The Texas case "undermined" the FDA's authority, she said. "To take seriously that it ignored risks, risks unsupported by any credible evidence, suggests questions as to what federal courts might decide about other federal agencies' decisions."