Florida LGBTQ Group Cancels Pride Parade Thanks to Anti-Drag Bill
Florida's drag ban hasn't been signed into law yet, but it's already having the intended effect.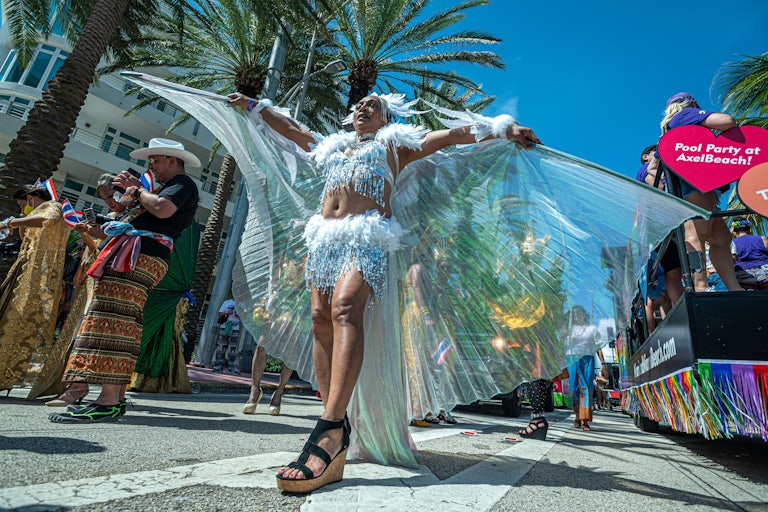 GIORGIO VIERA/AFP/Getty Images
People participate in the Pride Parade during the Miami Beach Pride Festival in September 2021.
Florida's drag ban has not yet been signed into law, and yet it is already stopping Pride celebrations in the state.
The measure passed the state House of Representatives Wednesday by a vote of 82–32 and is now headed to the desk of Governor Ron DeSantis. If he signs it into law, the measure would prohibit government entities and employees from issuing permits to organizations that may hold "adult live performances" in the presence of minors. It would also ban businesses from allowing minors to attend such performances.
The Pride Alliance of the Treasure Coast, which covers several counties in southeastern Florida, announced some dramatic changes late Wednesday to its Pride celebrations in light of the legislation.
"As all of you know, the political climate that we are currently in has us all very concerned for our community. After multiple meetings with city officials, it is with a heavy heart that Pride Alliance of the Treasure Coast has to announce that this weekend's Pridefest will now be a 21 and older event," the group said on Facebook.
"We also regret to announce that we will have to cancel our plans to bring back our beloved parade."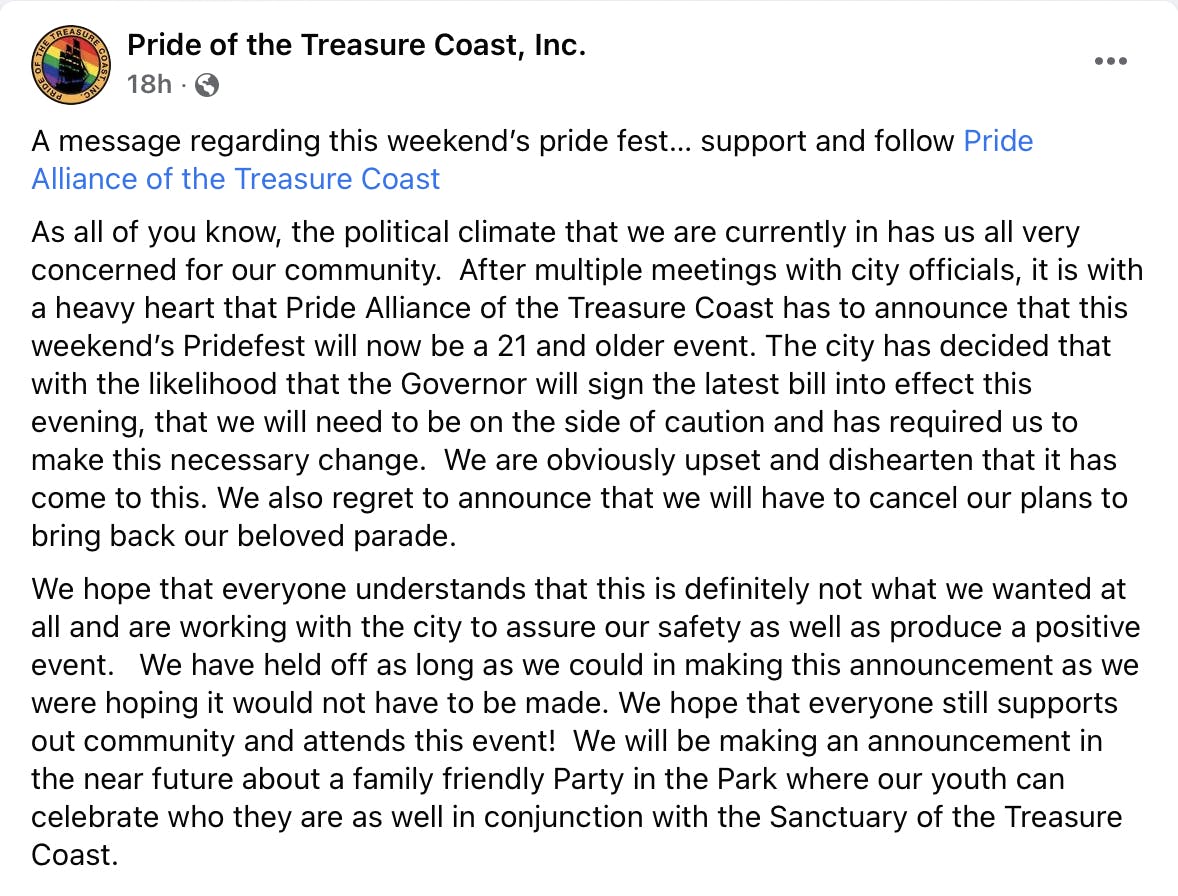 "This is the law working as intended: forcing queer people back into the closet," tweeted New York Times columnist Lydia Polgreen.
Florida is the latest state to advance a (vaguely worded, extreme) measure attacking drag performances, which have become a particular target for the right wing in recent years. It is likely to become the second state to pass a law, after Tennessee in March. The Tennessee law was blocked by a judge before it could go into effect on the grounds that it was overly broad and violated free speech rights.