Tennessee Lowered Permitless-Carry Age on the Day of the Nashville Shooting
Younger Tennesseeans will not be prosecuted for carrying a gun without a permit.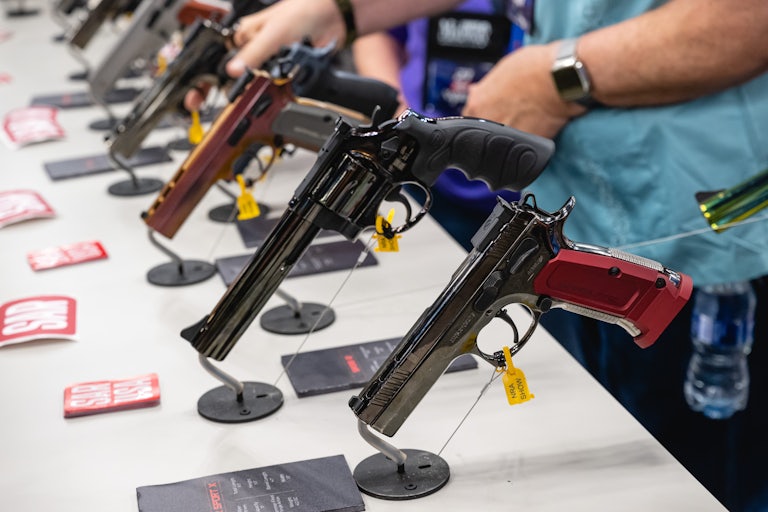 Jon Cherry/Bloomberg/Getty Images
After a mass shooting, one might reasonably expect a society to enact some sort of legislation or change to prevent such a thing from happening again. Imagine almost the exact opposite: loosening gun laws on the same day as a mass shooting. That, in fact, is what happened in Tennessee.
On March 27, a school shooting in Nashville left three children and three adults dead. Also on March 27, a Tennessee judge approved an agreement that would allow 18 to 20-year-old Tennesseans the right to carry a gun without a permit.
The decision came in response to an out-of-state firearms group that was suing Tennessee, arguing it is somehow unconstitutional to prevent 18-year-olds from carrying guns sans permits.

And in late January, Tennessee Attorney General Jonathan Skrmetti decided to settle the case, agreeing that his office would not prosecute people between the ages of 18 and 20 who carry guns without permits. The proposal was officially approved on the same day as the Nashville shooting.
"It is the 16, 17, 18 and 19-year-olds killing and doing the shooting, wreaking havoc," mother and retired U.S. Army member Eboni Anderson told Action News 5. "And the leaders are … just saying … 'Go ahead … leave [guns] on a silver platter and go kill yourselves. We're aware of this.' I can only hope the younger generations are aware they're giving us the guns because they want us to kill each other."
Skrmetti's decision had gone through with little awareness, even on the side of elected officials; Action News 5 reported that numerous leaders did not know the change until they had reached out to them for comment.
The weakening of gun safety provisions in Tennessee should not be seen as an aberration. Last week, Tennessee Republicans shut down a "red flag" law that could have prevented the shooting in the first place. They had shut down a similar bill two years ago as well. Tennessee Republican Governor Bill Lee made permitless carry legal in 2021, and his fellow state Republicans have been working to expand the permitless-carry privilege to include all guns, including the likes of AR-15 rifles and shotguns. The legislation would also have Tennessee recognize any out-of-state permit as valid "as if it is a firearm carry permit issued in this state."
As of 2020, Tennessee was among the top-10 deadliest states in the country from firearms. And in the aftermath of a devastating mass shooting and yet another data point in the over 160 American mass shootings of 2023, Tennessee Republicans show no sign of wanting to change that statistic.