For Some Reason, Dominion Settles With Fox in Defamation Lawsuit Over Election Lies
This was set to be an unprecedented trial, forcing Fox executives and insiders to the stand.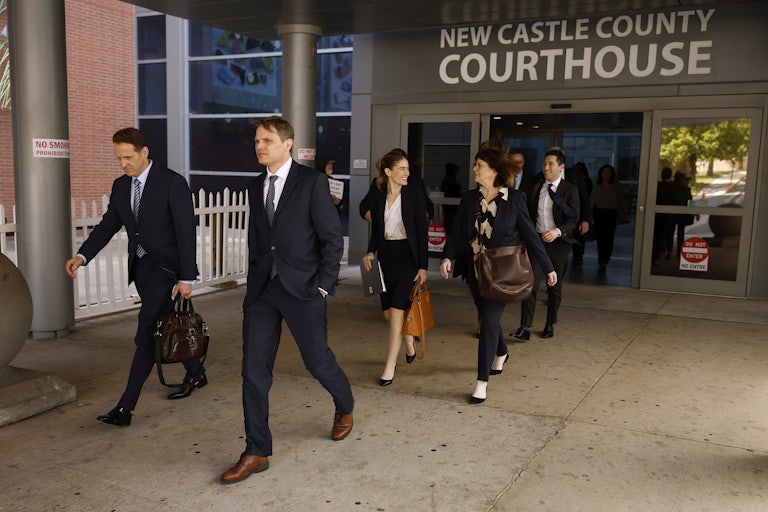 Chip Somodevilla/Getty Images
Members of the legal team representing Dominion Voting Systems leave the Leonard Williams Justice Center where Dominion sued Fox News in Delaware Superior Court on April 18.
After a months-long legal battle between Dominion Voting Systems and Fox Corporation, it all ended in a poot.

On Tuesday, Fox and its cable networks reached a settlement agreement worth $787.5 million, in what was originally a $1.6 billion defamation lawsuit brought by Dominion. The settlement nips away what may have been an unprecedented trial process that would've brought an array of insiders—Fox hosts, executives, and others—to take the stand.
The day was slated to be one that opened up the possibility for more revelations into Fox and the lies swarming within it. Instead, the promise of further accountability for the network slowly, and then all at once, fizzled away.
Hours were spent picking jurors for the case, even having to substitute one juror who said they were awake all night and were not in a capacity to go through the rest of the trial. Then a short lunch recess was called, around 12:40 p.m. Eastern time.
Opening statements were set to begin at 1:30 p.m. But then time passed. And more time passed. In the interim, Delaware Superior Court Judge Eric Davis ordered the formal appointment of a special master to look into whether Fox complied with its court-ordered discovery obligations. (The order followed Davis sanctioning Fox last week for not handing in evidence on time, including audio recordings from a former Fox producer suing the network, alleging that she was harassed, retaliated against, and made to be a scapegoat in the Dominion case.)

Finally, almost two and a half hours later, just minutes before the clock ticked to 4 p.m., Judge Davis made the announcement: "The parties have resolved their case."
"Money is accountability," Dominion lawyer Justin Nelson said, referring to the nearly $800 million settlement agreement. Dominion's legal team made no mention that Fox would have to issue an apology or retraction on air for the lies it spread about the 2020 election.
With the settlement, Dominion decided that the short-term win was worth more than continuing the battle against one of the most crooked "news" agencies in the business. That Rupert Murdoch's Fox was willing to fork over so much cash gives a hint at what more still was left to be exposed.
Sure, all media outlets face some form of legal challenge from time to time, but Fox takes the cake: The corporation is constantly embroiled in legal battles related not just to unethical journalistic practices but sexual harassment and discrimination against employees.
And that's just among the cases that actually make it to court. Who knows how many cases are either quashed internally or don't receive enough attention to challenge such a behemoth corporation? Dominion, occupying center stage, has exposed many lies undergirding Fox, including ones spread by the network's most popular hosts. And now, in its settlement, it relinquishes that battle and lets Fox off the hook.
And the corrupt network is already celebrating and ready to move on, confident in its ability to settle any future legal challenges just as well.
"We acknowledge the Court's rulings finding certain claims about Dominion to be false," Fox's P.R. team said in a statement. "This settlement reflects FOX's continued commitment to the highest journalistic standards."
"We are hopeful that our decision to resolve this dispute with Dominion amicably, instead of the acrimony of a divisive trial, allows the country to move forward from these issues."
That's right, folks: Don't hold on to the lies Fox told about voting systems, or the dishonesty of its own hosts and executives who knew they were sharing lies all along. That all can just be a section on Fox's endless Wikipedia page; let's "move forward."

This story has been updated.