DeSantis Disney Appointee Said Tap Water Could Be Making People Gay
Ron Peri is on the new oversight board for Disney World, and he has some interesting beliefs.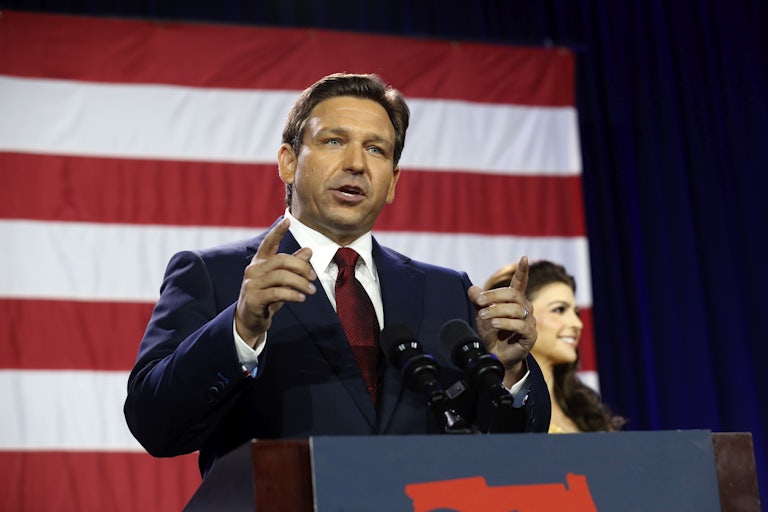 Octavio Jones/Getty Images
A member of the new Ron DeSantis–appointed oversight board for Disney World thinks that tap water could be making people gay.
Disney World previously governed itself autonomously in the Reedy Creek Improvement District, which oversaw its own fire department, water systems, roadways, and building inspections around the theme park. But in 2022, after Disney's then-chairman condemned Florida's "Don't Say Gay" law, DeSantis retaliated by stripping the park of its governing powers.
On Monday, DeSantis signed a bill that allowed the autonomous district to continue, but installed a new oversight board consisting of five members, all appointed by the governor.
One of those members is Ron Peri, a former pastor and the head of The Gathering—a Christian ministry focused on outreach to men—with a long history of making homophobic and untrue comments, CNN reported.

During a Zoom discussion in January 2022, Peri shared his conspiracy theory about tap water.
"So why are there homosexuals today? There are any number of reasons, you know, that are given. Some would say the increase in estrogen in our societies. You know, there's estrogen in the water from birth control pills. They can't get it out," he said. "The level of testosterone in men broadly in America has declined by 50 points in the past 10 years. You know, and so, maybe that's a part of it."
Peri did not specify what kind of points he meant, or what the pre-decline level had been. But chemicals in tap water making people gay is a popular conspiracy theory, pushed by people including Alex Jones. Testosterone levels in men have dropped in recent decades, but not by anything close to 50 percent. Researchers are unsure why the hormone has dipped, but there is no evidence that testosterone levels affect sexual orientation.
In the same call, Peri also called homosexuality "shameful" and "unhealthy." In the past, he has called LGBTQ people "deviant" and blamed them for the fall of the Roman Empire.
In another Zoom discussion, Peri compared abortion to Holocaust-levels of genocide.
Another member of the new Disney World oversight board is Martin Garcia, a lawyer in Tampa Bay whose private investment firm donated $50,000 to DeSantis's 2022 reelection campaign. DeSantis also appointed Bridget Ziegler, the co-founder of the conservative group Moms for Liberty, which has led the charge in banning books in schools, and the wife of the Florida Republican Party chairman.
State Democratic lawmakers have warned that the board could be used to further DeSantis's political goals by blocking moves at Disney with which the governor disagrees. Representative Rita Harris used the example of Disney changing Splash Mountain to Tiana's Bayou Adventure.
"Are we going to see board members vetoing projects that are considered to go against any governor?" she asked during the debate over the bill Monday. "Would the board then be able to push a company into changing their business model just so that they don't misalign [with] them?"