Virginia Gov. Glenn Youngkin Helps Defeat Bill That Would Prevent Cops From Accessing Period App Data
The Republican governor has also promised to sign any anti-abortion bills that reach his desk.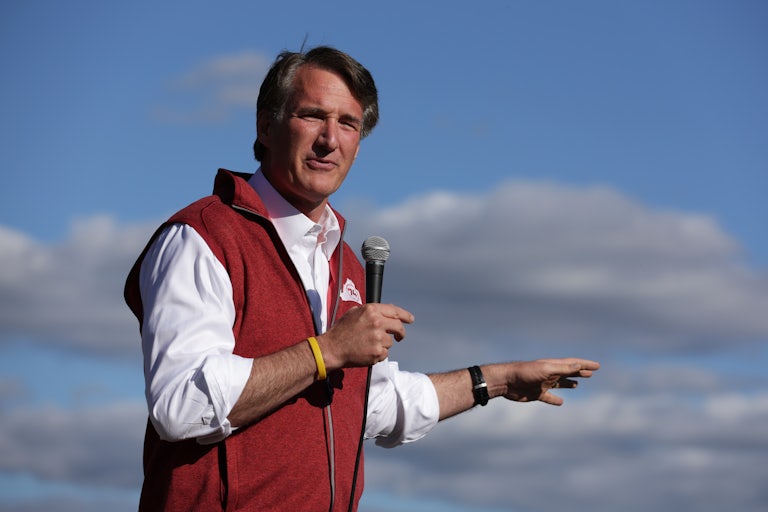 Alex Wong/Getty Images
Virginia's Republican Governor Glenn Youngkin poured cold water on a bill that would have prevented law enforcement from accessing data stored on period-tracking apps.
The bill, which comes amid increasing attacks on abortion nationwide, had already passed the state Senate with broad bipartisan support. Only nine of the chamber's 18 Republicans voted against it, while the other half sided with the Democratic majority. But it failed in the House of Delegates Monday after Youngkin's administration expressed opposition to it.
"Currently, any health information or app information is available via search warrant," said Virginia's Deputy Secretary of Public Safety and Homeland Security Maggie Cleary, speaking on Youngkin's behalf. "We believe that should continue to be the case."
She warned legislators the bill would be the very first to limit what state courts can deem relevant enough to criminal cases that it merits a search warrant.
The bill's sponsor, Democratic Senator Barbara Favola, argued that period data should be considered a unique case because "there's very little information that is as personal and private as your menstrual data." But the bill still failed 5–3 along party lines.
"It is exceptionally disquieting to see Governor Youngkin oppose a bill that would protect women from having their private health data weaponized against them in a court of law," Democratic Party of Virginia press secretary Liam Watson said in a statement.
Tarina D. Keene, the executive director of the abortion rights group, REPRO Rising Virginia, told The Washington Post that Youngkin's "opposition to this commonsense privacy protection measure shows his real intentions—to ban abortion and criminalize patients and medical providers."
Since the fall of Roe v. Wade, many people have worried that data collected from hugely popular period-tracking apps could be weaponized as a means to find and prosecute those who get abortions.
Millions of people use such apps, which are not bound by HIPAA, the federal health privacy law. This means that the app companies are required to hand over information to law enforcement if asked. Abortion rights groups have warned the information could be used against both people who seek abortions and the medical workers who carry out the procedure.
Abortion in Virginia is currently legal up to 26 weeks of pregnancy. State law allows prosecutors to charge doctors who violate the restrictions, but not the patients. Youngkin's office has said he will not sign legislation that "imprisons women" for getting the procedure, but he has also pledged to sign any abortion bans that reach his desk.
He backed a 15-week abortion ban after Roe was overturned, and in his proposed budget unveiled in December, he proposed setting aside $50,000 to establish that limit. The ban failed in the Senate in late January.
Youngkin's opposition to privacy for menstrual history comes just days after the Florida High School Athletics Association decided not to require student athletes to provide their schools with detailed information about their periods.
A board panel had recommended the requirement in January, which caused such a massive outcry over privacy violations that the board called an emergency meeting over the rule. On the national level, a group of Democratic representatives also introduced a bill that would block schools that receive federal funding from requiring students to provide their menstrual data. The bill is unlikely to pass the House, which is controlled by Republicans, who have made it clear they are cracking down on all abortion-related rights.