Florida Passes Anti-Drag Ban So Extreme It Could Ban All Pride Parades
The bill is so vaguely worded that Pride organizers are already worried about celebrations this year.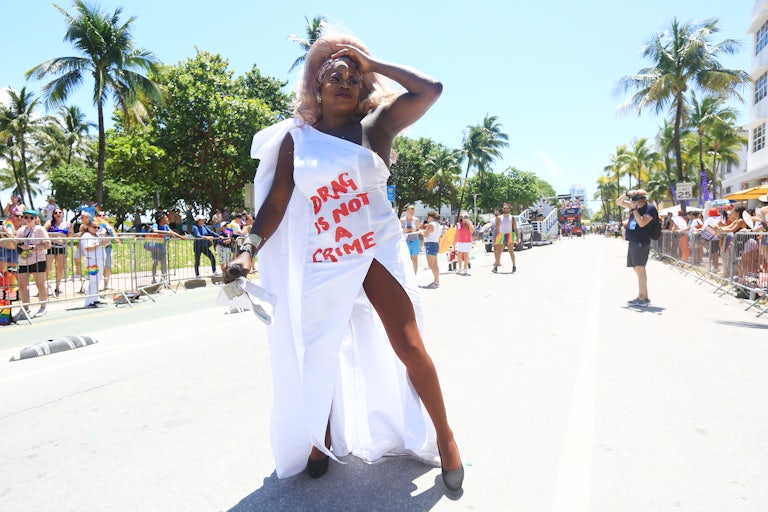 Sean Drakes/Getty Images
Celebrated drag personality and Palace ambassador Tiffany Fantasia co-hosts the fifteenth annual Miami Beach Pride Parade, wearing a custom dress that declares "Drag Is Not a Crime," on April 16.
Florida passed a bill Wednesday that could stop all Pride parades and festivals in the state.
The measure passed the House of Representatives by a vote of 82–32 and is now headed to the desk of Governor Ron DeSantis, who is expected to sign it into law. The bill passed the Senate last week by a vote of 28–12.
If it becomes law, the measure would prohibit government entities and employees from issuing permits to organizations that may hold "adult live performances" in the presence of minors. Anyone that does can be charged with a misdemeanor.
The measure would also ban businesses from allowing minors to attend an "adult live performance," which is defined as a show performed in front of a live audience that "depicts or simulates nudity, sexual conduct, sexual excitement, or specific sexual activities … lewd conduct, or the lewd exposure of prosthetic or imitation genitals or breasts." Any business that breaks this law will face a fine of up to $10,000 and could lose its license.
"This bill is a blatant attack on free expression, parental rights, and choice," said Democratic Representative Lavon Bracy Davis. "What are you afraid of? What is it about drag queens that terrify you? Pray tell, why are we censoring artistic expression?"
"I know this chamber has shown quite the concern for impersonation. Well right now, we are impersonating democracy."
Democrat Fentrice Driskell pointed out that Florida already has laws in place to protect children from being exposed to obscene content, the main argument from the bill's backers. "Even though the plain text of the bill may not say 'drag' ... there's a greater context happening here, and we all know it," she said.
Her colleague Daryl Campbell warned that Republicans may currently be targeting the LGBTQ community. But "for those watching, they will come after you when it's in their interest."
If DeSantis signs the bill into law, it will go into effect immediately, a little more than a month before Pride Month begins in June. Festivals such as St. Pete Pride in St. Petersburg, the state's largest Pride celebration, could lose their permits.
The measure is so vaguely worded that Pride organizers in the state have already expressed concern. "We do believe that this might be the last Pride as you know it," Patrick Gevas, one of the organizers of Miami Beach Pride, told NBC 6.
Critics have slammed the bill as being overly broad, which could have unintended consequences. Republicans backing it have admitted that the measure would prevent performances of The Rocky Horror Picture Show and the musical Hair.
But the measure will also have an intended consequence: "erasing" LGBTQ people from existence. Florida Republican Representative Randy Fine said last week that if passing the bill "means erasing a community because you have to target children, then, damn right, we ought to do it!"
The ACLU slammed the bill when it first passed the Senate as "an extreme governmental overreach of power." "This is not democracy. This is not freedom," the group said in a statement.
Florida is the latest state to advance a (vaguely worded, extreme) measure attacking drag performances, which have become a particular target for the right wing in recent years. In March, Tennessee became the first state to pass a law banning drag performances, but the measure was blocked by a judge before it could go into effect on the grounds that it was overly broad and violated free speech rights.
DeSantis has also set his sights on drag performances, revoking the liquor licenses for multiple businesses that have hosted drag shows—even though undercover agents sent to one show "did not witness any lewd acts."