Texas GOP Bill Would Ban Students From China and 3 Other Countries From All Public Universities
Texas Republicans are fanning the flames of xenophobia and racism.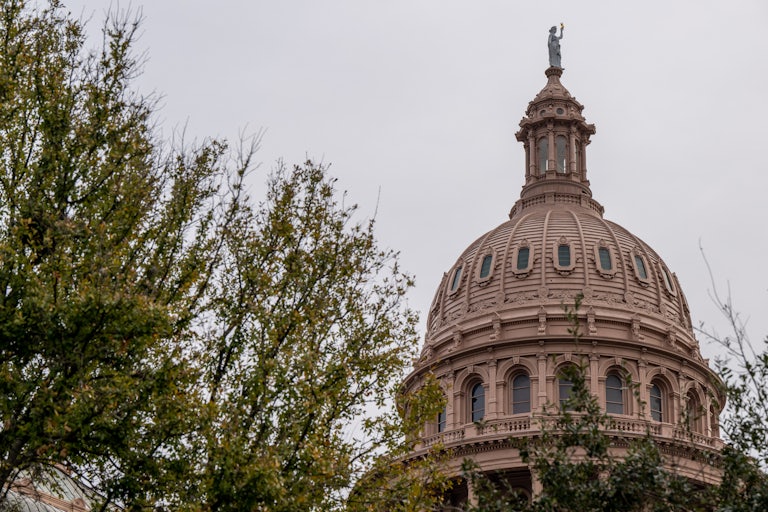 Brandon Bell/Getty Images
Texas State Capitol
Texas Republican lawmakers are under fire for a bill that would ban students from China and three other countries from all public colleges and universities in the state, with many calling the measure racist and xenophobic.
The bill, introduced last week, would prohibit higher education institutions from admitting international students from China, Iran, North Korea, and Russia, or any students who are undocumented. It also changes existing law to restrict the definition of a Texas resident. People who received a high school diploma or equivalent in Texas and lived in the state for three years prior to receiving that degree or for the year prior to enrolling in higher education no longer count.
The measure has "little chance of advancing" in the current legislative session, according to the San Antonio Express News, but it has still raised fears as it comes just two months after other Texas Republicans introduced a bill banning citizens from the same countries from purchasing land in the state.
That bill garnered months of backlash. Governor Greg Abbott endorsed the measure, even as local Asian American groups slammed it as racist.
Lawmakers amended the bill earlier this month to clarify that dual citizens and green card holders would still be allowed to buy property. But their attempt to cool the controversy was rightfully called out.
"It's still a fundamentally racist bill as it unfairly targets H1B visa holders, students, and refugees from exercising their full property rights," the Texas-based Asian American group Rise AAPI said.
Both of these bills are painfully reminiscent of the Chinese Exclusion Act, which was enacted in 1882 and restricted Chinese immigration to and rights in the United States until 1943. That measure was a direct result of "yellow peril," or racist fearmongering about Asian people. The heightened political tensions around race helped set the stage for much broader political scapegoating, when people of color were specifically blamed for issues in American society.

More recently, citizens of Iran and North Korea were targeted for years under former President Donald Trump's travel ban. (Levels of immigration from North Korea to the United States are, of course, quite low.)
The Texas bills are also coming at a time of increased racial scapegoating. The nonprofit Stop AAPI Hate released a report in October that found Asian Americans are blamed for issues with the economy, public health, and national security.
Trump helped foment a lot of resentment towards China and Asian Americans through his rhetoric around Covid-19, calling it "Kung Flu" and the "China virus." He and other Republicans blame China for deliberately spreading the coronavirus around the world. Their words helped spur a massive increase in anti-Asian hate in the past few years.
Lawmakers on both sides of the aisle accuse TikTok of spying on American users for the Chinese government, and the Biden administration has threatened to ban the app nationwide if it is not sold to a non-Chinese entity. But at the end of the day, it doesn't really matter who owns TikTok: Bad actors get hold of private data all the time. China's just a handy scapegoat.
And in February, Texas Representative Lance Gooden said he felt his Californian colleague Judy Chu needed "to be called out" and that her security clearance should be revoked.
"I question her either loyalty or competence," he said.
Democrats rushed to Chu's defense, with Minority Leader Hakeem Jeffries calling Gooden's comments "dangers, unconscionable, and xenophobic." But Chu herself summed it up best.
"I very much doubt that [Gooden] would be spreading these lies were I not of Chinese American descent," she said on MSNBC.