Florida Expands "Don't Say Gay" Law Through High School
The law bans classroom discussion on sexual orientation or gender identity.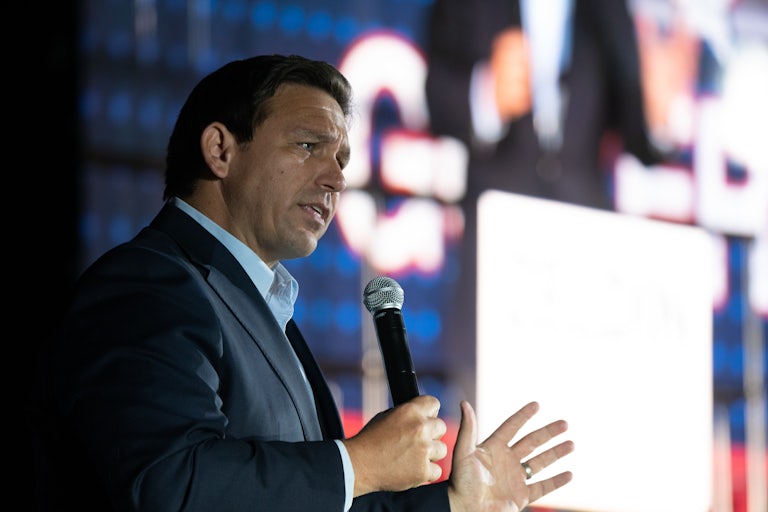 David Dee Delgado/Getty Images
Florida's Board of Education voted Wednesday to dramatically expand the state's infamous "Don't Say Gay" law through high school.
Governor Ron DeSantis signed the original law, officially named the Parental Rights in Education law, in March 2022. The law bans schools from teaching students in kindergarten through third grade about sexual orientation or gender identity, arguing that those topics are not age- or developmentally appropriate.
The amendment approved Wednesday expands that ban. Instruction on sexual orientation and gender identity was originally banned from pre-kindergarten to third grade. Now, "for Grades 4 through 12, instruction on sexual orientation or gender identity is prohibited unless such instruction is either expressly required by state academic standards … or is part of a reproductive health course or health lesson," the amendment states.
Teachers who provide such instruction anyway risk losing their teaching license. Parents can also decide to remove their student from any health classes.
"It was NEVER, EVER, EVER about 'protecting children,'" warned former Democratic state Representative Carlos Guillermo Smith, ahead of the vote.
The LGBTQ rights group Equality Florida slammed the measure after it was passed. "The lust for government censorship is insatiable," the group said.

The proposal will go into effect after a procedural notice period, which lasts about a month, an Education Department spokesperson told the AP.
Florida is cracking down on discourse around sexuality and gender identity, often in ways that are overly broad and extreme. A Republican representative introduced a bill in February that would bar any kind of sex education in public schools until sixth grade, and then allow abstinence-only sex ed in the grades after. The bill, which passed the House and is in the Senate, is so vague that it would also prohibit younger students from discussing their periods with school officials.
DeSantis is widely expected to announce a 2024 presidential run, and he has made clear he is waging war on anything he deems "woke." He's been in a weird legal battle with Disney World for a year, since the company's then chairman condemned the "Don't Say Gay" law. He has promised to defund diversity, equity, and inclusion programs on college campuses; limited what can be taught or read in schools; and had his allies force out the president of a liberally minded college.