It's Really Quite Simple: Republicans Hate Young People
For all its grousing about "liberal indoctrination," the GOP has no one to blame but itself for alienating the youth of America.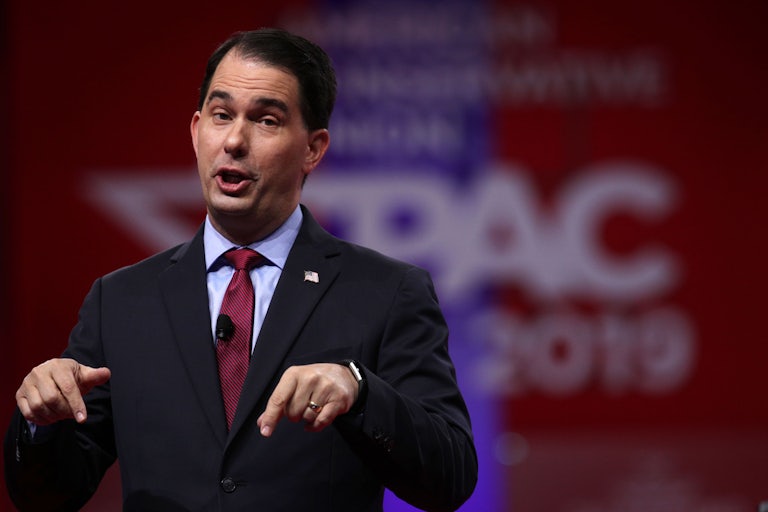 Alex Wong/Getty Images
Former Wisconsin Governor Scott Walker
A liberal victory in Wisconsin's recent high-stakes state Supreme Court election has left former Governor Scott Walker in a foot-stamping, multiplatform fume that targeted the young voters who swung behind the victorious Janet Protasiewicz. "Younger voters may be the behind [sic] the stinging loss for conservatives in WI this week," he tweeted. "We have to undo years of liberal indoctrination."
Not content to just tweet, Walker took his complaints to Fox News in an attempt to expand his brief against the "indoctrination" of youth. In his telling, the younger generations have been too exposed to "radical ideas," such as "climate change and defunding the police … abortion, and all these sorts of other issues." What's more, "they have never heard the opposing viewpoint. And so, if that's all they hear in college and high school and social media and culture, you can see why they've gone so lockstep in that regard. We've got to turn that around."
Walker's theory of the Wisconsin election might be more convincing if there wasn't a far less convoluted explanation at the ready, which is simply that young voters did hear the opposing view and found it both substantially objectionable and antithetical to their interests.
Perhaps the largest matter at stake in that election was abortion. Everywhere you look, Republicans are finding it very difficult to actually run on the post-Roe dystopia they've engineered—so much so that they're now trying to get people to just stop talking about it. But the fact that young voters back both reproductive rights and the Democrats who support them, by wide margins, is very well known. Republicans have had ample opportunities to account for this reality and moderate their position. They've failed to do so, and, wouldn't you know it, young people have noticed.
So while Walker may believe that some level of "indoctrination" is behind the way the youth vote disproportionately tilts toward Democrats, perhaps there's something to the theory that young voters are simply noticing what's going on in the world around them and responding in kind to this abundance of observable information. For example, it could be that young Wisconsinites remember Walker, their would-be liberator from the chains of indoctrination, as the governor whose economic numbers lagged those of Democrat-run neighbor Minnesota, or the guy whose key achievement was saddling the state with his doomed FoxConn factory boondoggle.
Looking further afield, maybe young voters are similarly observing that Republicans seem to just not like them very much! They are probably reading about how conservatives are banning books and drag shows, demonizing gay and trans people, and thwarting progress on climate mitigation—an issue pretty dear to their hearts since they, along with their own children, will be greatly impacted by the environmental calamities to come. It could be that young voters actually have heard the "opposing view" very clearly and they find it to be out of touch and off-putting.
The GOP has had plenty of chances to avoid alienating young voters. Republican pollster Kristen Soltis Anderson has been sounding the alarm about this for several years now: In 2017, she warned that not only were young voters breaking toward Democrats "by massive margins," they also weren't "moving rightward" as they approached middle age. "Like the Gen Xers ahead of them," she wrote, "they're instead more and more likely to decide 'liberal' suits them just fine as a label." This all came home to roost in 2018, when the highest youth turnout in the history of midterm elections swept Democrats into office. Four years later, the youth vote hit slightly smaller heights—but young voters got the lion's share of the credit for breaking the "red wave" that was supposed to be on the way.
Naturally, nothing is promised to Democrats. In recent weeks, President Joe Biden has given young voters cause for consternation by backing a TikTok ban and landing in the squishy middle on the rights of trans athletes. And he's historically had struggles keeping the affections of young voters—in 2021, his approvals with this cohort took a worrying drop that made headlines. Fortunately for Biden, this support rebounded by Election Day in 2022, perhaps because these voters were able to discern the difference between a Democratic Party filled with normal human beings who were sincerely interested in crafting policy and a Republican Party filled with antisocial weirdos.
After taking a licking in 2022, Republicans once again failed to respond with soul-searching about losing the youth vote. Instead, they packed the postelection discourse with complaints about voters they'd already so badly alienated, grousing about how the voting age was too low. In recent weeks, a concerted effort has begun to suppress the youth vote in Texas by banning polling places on college campuses; similar measures are likely on the way across the country. And so all of this pathetic caviling about youth indoctrination rings false against the clear evidence that what Republicans actually want is simply to crush the political power of the young.
This article first appeared in Power Mad, a weekly TNR newsletter authored by deputy editor Jason Linkins. Sign up here.