The Weird Online Profile of the National Guardsman Arrested for Allegedly Leaking Intelligence Docs
Here's what we know about the suspected leaker.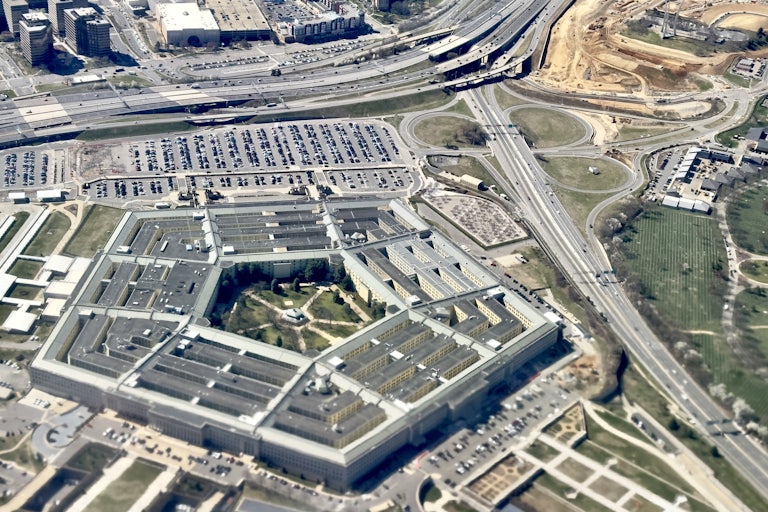 DANIEL SLIM/AFP/Getty Images
The Pentagon
Federal investigators on Thursday arrested an air national guardsman suspected of leaking classified intelligence documents about the war in Ukraine.
The man, a 21-year-old named Jack Teixeira, is a member of the Massachusetts Air National Guard's intelligence wing. He is believed to have shared the documents on a Discord server in early March.
The documents were confirmed to be real, although some were doctored before being posted online. They include information on Russian and Ukrainian strategies and issues in the ongoing war, as well as intelligence on Canada, China, Israel, South Korea, the Indo-Pacific military theater, and the Middle East.

Teixeira shared the documents to a group he led. The other members, about 20-30 of them in total, were mostly young men and teenagers who had bonded during the height of the Covid-19 pandemic over their shared interest in guns, racist memes, and video games.
Four members of the group spoke to The New York Times and insisted that Teixeira, whom they didn't name, wasn't a whistleblower. He shared the documents to inform his friends. The leak only gained attention when other members of the group posted some of the documents to a public forum.
The leak is unusual in that it is not as broad in scope as previous ones, such as WikiLeaks or the one orchestrated by Edward Snowden. But the information in the documents is much more timely, which has concerned White House and defense officials.
Some of the documents are less than two months old, and they contain previously unknown details about the state of Ukraine's army as it tries to fend off the Russian invasion. The documents also revealed new information about how the U.S. gathers intelligence on adversaries and allies alike.
It's unclear how Teixeira was able to access such highly classified intelligence. A U.S. official, speaking anonymously to The Washington Post, explained that National Guard units sometimes perform support services for active-duty units, including intelligence support for the Joint Staff. If Teixeira performed such support service, he could have been able to get ahold of the documents.
This post has been updated.