Poll: Two-Thirds of Americans Don't Have Confidence in Supreme Court
The drop in confidence comes as the Supreme Court debates the future of the abortion pill.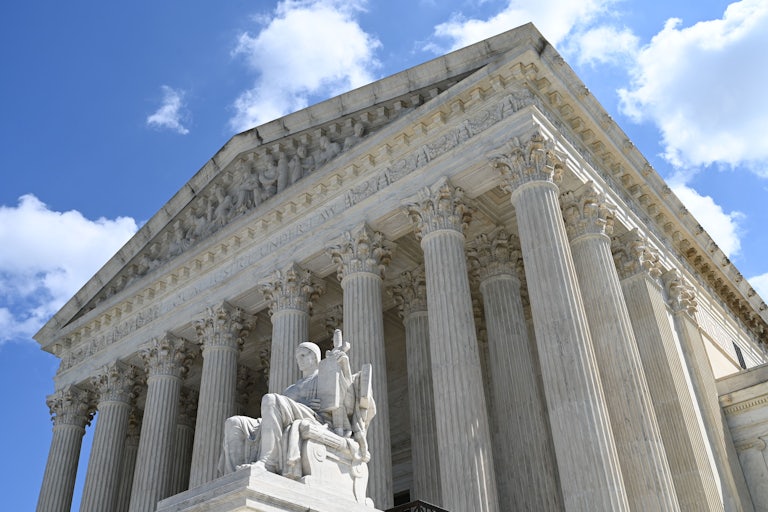 DANIEL SLIM/AFP/Getty Images
Nearly two-thirds of Americans don't have confidence in the Supreme Court, a report released Monday found, an all-time low that comes as the justices weigh a controversial and unpopular case about abortion access.
A poll conducted by NPR, PBS NewsHour, and the Marist Institute for Public Opinion found that 62 percent of Americans say they have not very much confidence or no confidence at all in the Supreme Court. This is the lowest number since this poll was first conducted in 2018, when almost twice as many people said they had confidence in the court.
Similarly, 68 percent of people think that Supreme Court justices should have term limits, instead of receiving lifetime appointments. These results spanned the political spectrum.
Marist, NPR, and NewsHour surveyed nearly 1,300 adults between April 17 and 19, meaning the poll was conducted a week after a Texas federal judge ruled that mifepristone, one of the medications used to induce an abortion, had been improperly approved by the Food and Drug Administration and should be yanked from the U.S. market. The Department of Justice appealed the ruling, and the Supreme Court issued an eleventh-hour stay on Friday while the lawsuit plays out.
This was the court's first major decision on abortion access since it overturned Roe v. Wade last summer. That ruling was hugely unpopular, as almost two-thirds of Americans believe that abortion should be legal in all or most cases, according to the Pew Research Center.

The Marist poll found that 64 percent of Americans also oppose a ban on medication abortion, and a majority of those people do regardless of political affiliation. Almost the same number of people (61 percent) think judges should not be able to overrule FDA approval of a drug. As Rachel Rebouché, the dean of Temple University's law school, previously told The New Republic, abortion access is not the only issue at play in the mifepristone case. The lawsuit is also "about deference to a federal agency's expertise."
The Supreme Court has become increasingly politicized, from the appointment process to the justices themselves, and people are starting to see it. That politicization chips away at public trust in the institution. It's no longer clear that the court will uphold people's rights, as opposed to wielding its almost absolute authority to impose its personal beliefs on the country.
"The Supreme Court's decision on medication abortion comes at a critical time for the Court as an institution," warned Lee Miringoff, director of the Marist Institute, in the poll release. "With Americans' confidence in the Court on a decline, the Court's decision will likely fuel the flames of debate and not squelch them."