Fox Faces Another, Much Bigger Defamation Lawsuit Than Dominion's
Smartmatic USA says it "remains committed" to holding Fox accountable.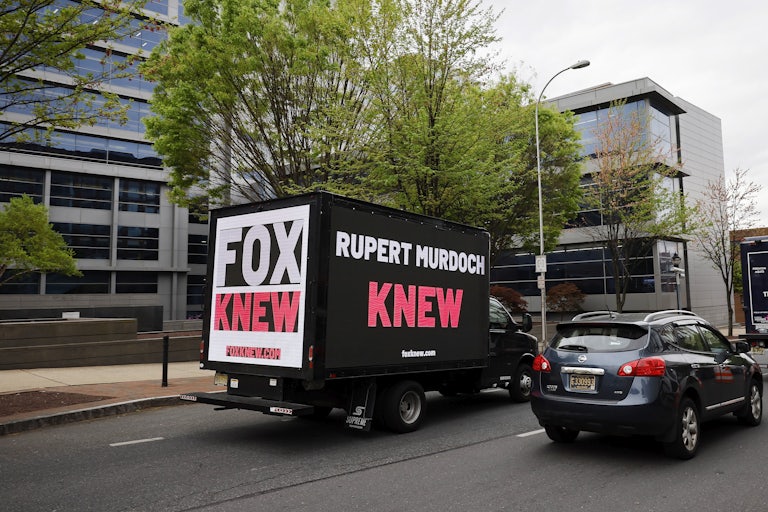 Chip Somodevilla/Getty Images
Fox just lost a decent chunk of money, and their legal headaches are far from over.
On Tuesday, Fox Corporation settled a $1.6 billion defamation lawsuit brought by Dominion Voting Systems to the tune of $787.5 million. The monthslong case that revealed streams of proof that Fox hosts had knowingly peddled lies about the 2020 election came to an anticlimactic end on the trial's opening day, as the two entities chose to settle and stop the case from advancing.
But while Fox was able to buy off any further embarrassment in the Dominion case they still face a whopping $2.7 billion lawsuit brought by Smartmatic USA, another voting systems company. And after the Dominion settlement announcement, Smartmatic said it "remains committed" to holding Fox accountable.
Smartmatic's massive defamation lawsuit is based on similar claims that Fox falsely accused Smartmatic of helping to rig the election toward Joe Biden; Smartmatic alleges too that Fox knowingly lied about the company in order to boost network ratings and appease Trump supporters.
In particular, the voting system company alleges that Fox made "over 100 false statements and implications about the company."
In February, a Manhattan court rejected Fox's attempt to dismiss the lawsuit, 5–0. The case proceeds against Fox News, Fox Business host Maria Baritromo, Trump lawyer Rudy Giuliani, and former Fox Business host Lou Dobbs.
It's almost humorous to think of Fox appealing to the courts to throw out a case similar to one they just settled for nearly $800 million. After Dominion settled its case with Fox Tuesday, Smartmatic was ready to connect its own fight to the case that left Fox down hundreds of millions of dollars and exposed some of the organization's many lies.
"Dominion's litigation exposed some of the misconduct and damage caused by Fox's disinformation campaign. Smartmatic will expose the rest," said Smartmatic attorney J. Erik Connolly. "Smartmatic remains committed to clearing its name, recouping the significant damage done to the company, and holding Fox accountable for undermining democracy."