Florida Wanted "Opposing Viewpoints" on Slavery in A.P. African American Studies Course
The DeSantis administration was fighting with the College Board for an astonishing reason, according to a new report.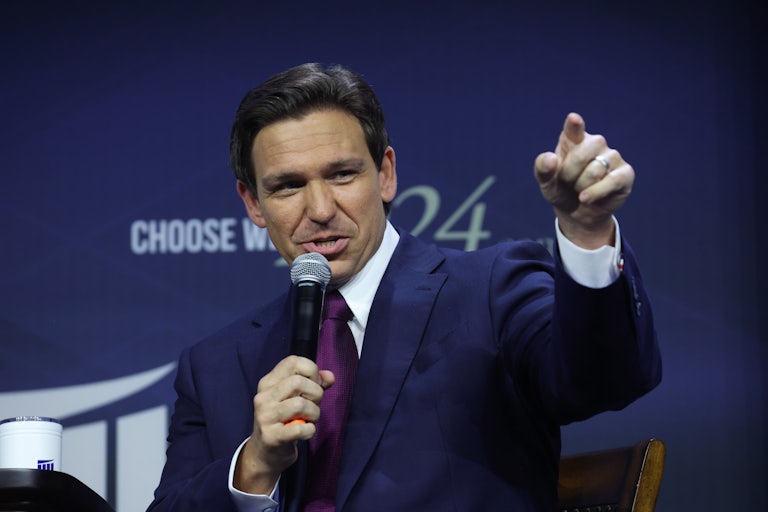 Scott Olson/Getty Images
Florida Governor Ron DeSantis's administration officials opposed the College Board's new Advanced Placement African American studies course due to its lack of "opposing viewpoints" on slavery.
A new report from the Miami Herald sheds more context on Florida's fight against the College Board and Black history specifically.
According to internal state comments, the reviewers believed the A.P. course's depiction of chattel slavery did not promote both sides of history. One lesson on how Europeans benefited from trading enslaved people "may lead to a viewpoint of an 'oppressor vs. oppressed' based solely on race or ethnicity," reviewers noted.
The DeSantis administration successfully got the College Board to water down its A.P. African American studies course earlier this year. The new curriculum cut lessons on critical race theory, reparations, Black Lives Matter, and several prominent queer Black writers.
Florida officials' objection to the lack of "opposing viewpoints" on slavery occurred numerous times and was not previously reported.

"There is no other perspective on slavery other than it was brutal," Mary Pattillo, a sociology professor and the department chair of Black Studies at Northwestern University, told the Miami Herald. "It was exploitative, it dehumanized Black people, it expropriated their labor and wealth for generations to come."
Earlier this summer, Florida unveiled new social studies school curriculum that teaches students that enslaved people benefited from slavery and that Black people were also perpetrators of violence during race massacres.
The DeSantis administration also approved curriculum for public schools from the right-wing advocacy group PragerU last month. Course content includes a lesson in which Frederick Douglass calls slavery a "compromise."