Donald Trump Becomes the First President Ever to Pose for a Mug Shot
Trump has been arrested four times, is facing 91 charges, and finally, we have a mug shot.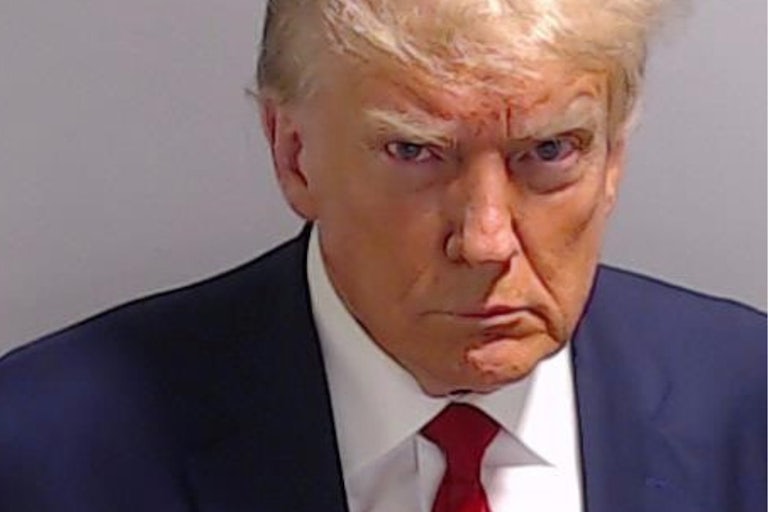 Fulton County Sheriff's Office/Getty Images
Donald Trump surrendered to authorities in Georgia on Thursday evening, marking the fourth time he has been indicted and arrested this year.
This time, he was treated like other criminal defendants.

The Fulton County Sheriff's Office booked him as inmate number P01135809. He was also registered as being 6'3", 215 pounds, and with "blond or strawberry" hair color.

The Fulton County Sheriff's office also released a photo of Trump's mug shot. Fulton County Sheriff Pat Labat had promised earlier this month that the former president would get no special treatment and would have his mug shot taken.
And the list of alleged crimes is long: Trump has been charged with 13 criminal counts for his attempts to overturn the 2020 election results in Georgia. He has also pleaded not guilty to dozens of other charges related to making hush money payments to porn star Stormy Daniels, mishandling classified documents at his Florida estate, and trying multiple times to overturn the 2020 presidential election.
Here is a list of all 91 official charges he faces.
Georgia: 13 counts
1 count of racketeering

3 counts of solicitation of violation of oath by public officer

2 counts of false statements and writings

1 count of conspiracy to commit impersonating a public officer

2 counts of conspiracy to commit forgery in the first degree

2 counts of conspiracy to commit false statements and writings

1 count of conspiracy to commit filing false documents

1 count of filing false documents
Washington: 4 counts
1 count of conspiracy to defraud the United States

1 count of conspiracy to corruptly obstruct an official proceeding

1 count of obstruction of and attempt to obstruct an official proceeding

1 count of conspiracy against the right to vote
Florida: 40 counts
32 counts of willful retention of national defense information

1 count of conspiracy to obstruct justice

1 count of withholding a document or record

1 count of corruptly concealing a document or record

1 count of concealing a document in a federal investigation

1 count of scheme to conceal

1 count of false statements and representations

1 count of altering, destroying, mutilating, or concealing an object

1 count of corruptly altering, destroying, mutilating. or concealing a document, record, or other object
New York: 34 counts

34 counts of falsifying business records in the first degree