"We're Ready to Fight": January 6 Defendants Say Trump Called Them to Riot
A new report finds that many of those charged with attacking the Capitol on January 6 said they were just listening to Donald Trump's orders.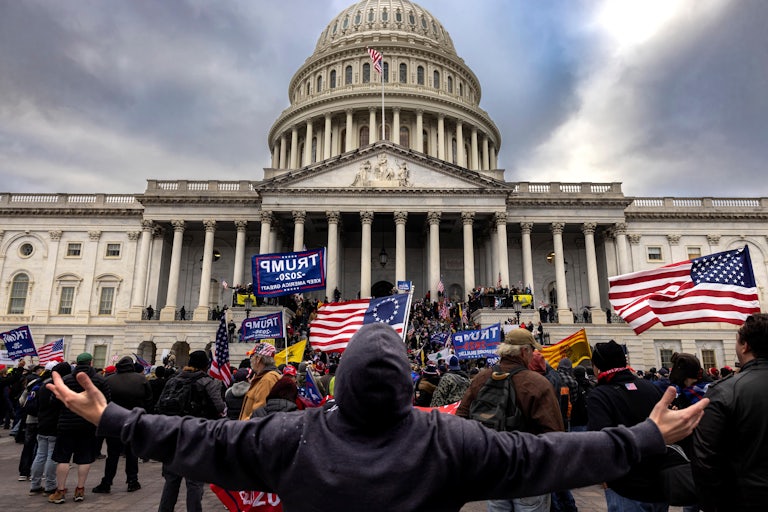 Brent Stirton/Getty Images
Pro-Trump protesters gather in front of the U.S. Capitol Building on January 6, 2021, in Washington, D.C.
Nearly 200 people from across the country who were charged for participating in the January 6 riot have said they were responding to a callout by former President Donald Trump.
More than 1,000 people have been arrested for taking part in the insurrection. Thousands of people went to Washington, D.C., after Trump tweeted there would be a "big protest" and told people, "Be there." On January 6, 2021, he spoke to the rally, which quickly turned into a deadly mob that swarmed the Capitol in an attempt to stop the certification of the 2020 election results.
An investigation by the nonprofit Citizens for Responsibility and Ethics in Washington, or CREW, has found that 174 defendants explicitly said they were responding to Trump's tweet when they descended on Washington. Of those people, 94 specifically said Trump's speech to the crowd was what prompted them to storm the Capitol. These numbers could be even higher because they do not include people who participated in the riot but have not yet been arrested.
On December 19, 2020, Trump tweeted, "Big protest in D.C. on January 6th. Be there, will be wild!" Many of his supporters apparently interpreted the post as marching orders.
One defendant, Nicholas Languerand, tweeted a video of himself a few days later saying, "We're picking up your messages, and we're listening. We're ready to do this thing. We're ready to fight to defend our republic against all enemies, foreign and domestic."
Trump's fans also included members of the extremist groups the Oath Keepers and the Proud Boys.
Oath Keepers Florida leader Kelly Meggs said in a Facebook message, "He called us all to the Capitol and wants us to make it wild !!! Sir Yes Sir !!! Gentlemen we are heading to DC pack your shit !!"
The group's founder, Stewart Rhodes, repeatedly called for the "violent overthrow" of the government. Rhodes was ultimately sentenced in May to 18 years in prison for seditious conspiracy, the longest sentence yet handed down in connection to January 6. Meggs was sentenced to 12.
Proud Boys leader Enrique Tarrio coordinated with Trump ally Roger Stone and members of the pro-Trump Stop the Steal campaign to have members of his group attend the January 6 rally. He also worked with Rhodes on a "proposal to storm Congress." Tarrio was convicted of seditious conspiracy in May, but he has not yet been sentenced.
When Trump addressed the crowd, he urged them to "walk down to the Capitol" and "fight like hell." Soon after, the angry mob stormed the building. One rioter, Douglas Austin Jensen, later told investigators that Trump "got us all fired up to go to [the Capitol]."
Another defendant, Stephen Ayres, told the House committee investigating the insurrection that the only thing that got the crowd to finally disperse was Trump's tweet telling them to "go home."
The House January 6 committee has laid the blame for the riot squarely at Trump's feet, recommending the Justice Department pursue him on four criminal charges. Special counsel Jack Smith is also currently investigating Trump for his role in trying to overturn the 2020 election, including whether he incited the insurrection. But Trump seems to have no regrets.

You can read CREW's full report here.