DeSantis Vows to Eliminate Department of Education or Use It to Wage War on Woke
The Florida governor is taking his "war on woke" to dangerous new levels.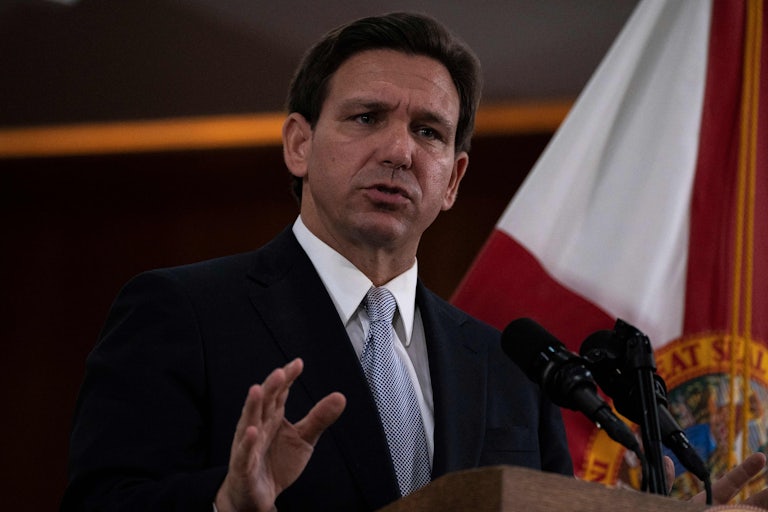 CHENEY ORR/AFP/Getty Images
Ron DeSantis is taking his idiotic "war on woke" to new, extremist levels.
On Wednesday, the Florida governor and Republican presidential candidate went on Fox News and vowed to eliminate the U.S. Department of Education—or if he can't, use it to go after "woke ideology."

DeSantis also vowed to eliminate the Department of Commerce, the Department of Energy, and the IRS in order "to reduce the size and scope of government."

DeSantis said that if Congress doesn't help him abolish the agencies, then he would use them to "push back against woke ideology and against the leftism that we see creeping into all institutions of American life."
"So for example, with the Department of Education, we reverse all the transgender sports stuff," he continued. "We reverse policies trying to inject the curriculum into our schools. That will all be gone. We will make sure we have an accreditation system for higher ed, which is now trying to foment more things like DEI and CRT. So we'll be prepared to do both. Either way, it will be a win for conservatives."
DeSantis has been using Florida as a testing ground for his war on wokeness, a manufactured culture war he thinks will propel him to the White House. Meanwhile, he is ignoring the harm his policies have caused his own constituents.
On education, he has fought the College Board, convincing it to cave and water down its new African American Studies course curriculum. He has replaced members on the Florida Board of Medicine and New College Board of Trustees with his own campaign donors and friends. He has banned diversity, education, and inclusion programs in higher education, banned degrees in gender and race studies, limited what college professions can actually teach on race and gender, and made it a requirement for all students to take a course in "Western civilization."
Teachers across the state are covering up books in their classrooms to avoid being charged with felonies under the new regime. Last month, an entire district banned a children's book on segregation after only one parent complained.
If that all wasn't enough, remember too that the "Don't Say Gay" law, banning any classroom discussion of race and sexuality, now applies to every single grade in the state.
DeSantis has been using Florida as his own personal laboratory, testing all manner of extreme policies targeting the most marginalized in his state. And now he's making it clear: If he becomes president, he'll take his fanatical vision nationwide.