Minnesota Republican Absurdly Blames Global Warming on Pride Month
Minnesota state Senator Eric Lucero would like to turn back the clock on LGBTQ rights.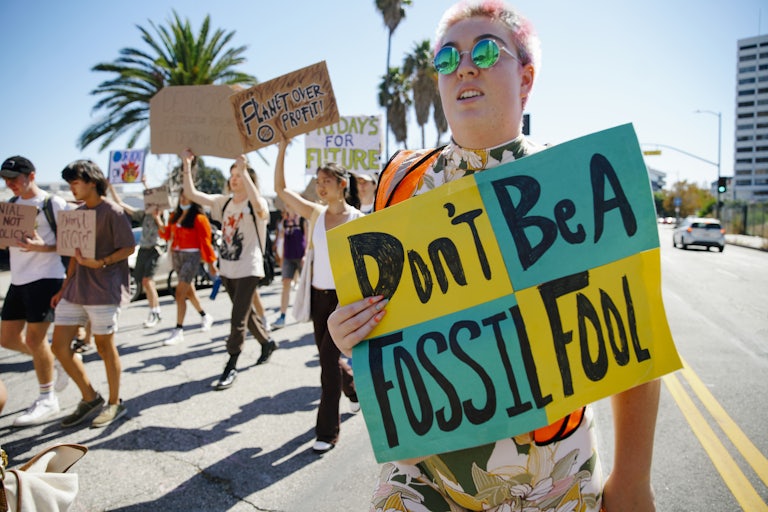 Katie McTiernan/Anadolu Agency/Getty Images
There are an estimated 24 million people who identify as LGBTQ in America—a likely undercount, as more and more people grow comfortable embracing themselves. And yet, despite that progress, Republicans like Minnesota state Senator Eric Lucero are working overtime to turn back the clock.
"GLOBAL WARMING," Lucero began in a tweet on Monday. "Our Creator hates PRIDE, and each of us as the creation will be held to account for our choices, eventually."
"The 7-color natural rainbow is a reminder of His promise to never again enact worldwide judgment by WATER. The next worldwide judgment will be by FIRE."
Neither the Bible nor any ancient religious text says anything about Pride Month, a modern-day celebration dedicated to people's ability to love and live freely and wholly.
Deep theology aside, if there is a God or gods, they would likely be less concerned with their creations feeling the warmth of love, than, say, their creations degrading other creations around them.
As in, Lucero's invocation of climate change as some sort of threat promised by God in response to "PRIDE," might (shocker) be missing the mark of what God (or gods) is (or are) actually concerned with. Maybe, just maybe, the idea that global warming is spurred by relentless greed (an actual universally accepted sin) is more convincing than the idea that God is making the globe hotter because people are loving freely.
Lucero's foolishness ought not be lost as Minnesota hosts some of the worst air quality in the world at this very moment due to wildfires made worse by climate change.
Not to be seen as an aberrant comment, Lucero's tweet adds to a growing pathetic and creepish track record.
Last year, Lucero tried spreading fake rumors that schools were harboring litter boxes in bathrooms and uniforms with tails to accommodate kids who identify as cats.

On January 6, 2021, Lucero spoke at a "Storm the Capitol" rally in St. Paul, in support of the riots on the U.S. Capitol in Washington, D.C. seeking to overturn the 2020 election results. "We are at the threshold of a Civil War … we need to purge. We need to pull the weeds," one of Lucero's fellow speakers said to the crowd.
Lucero, if nothing else, is a robotic outrage automaton, like many of his contemporaries. A day after Chaya Raichik posted a tweet displaying her complete lack of reading comprehension:
… Lucero tweeted essentially the exact same thing, showcasing his blithering desperation to be just like the other cool kids who see understanding words as a suggestion for, not a necessity to, daily life: