Ron DeSantis Says Woke Seven Times in 26 Seconds in Wildly Out of Touch Remarks
The Republican presidential candidate went on a rant about the "woke mind virus" at a campaign event.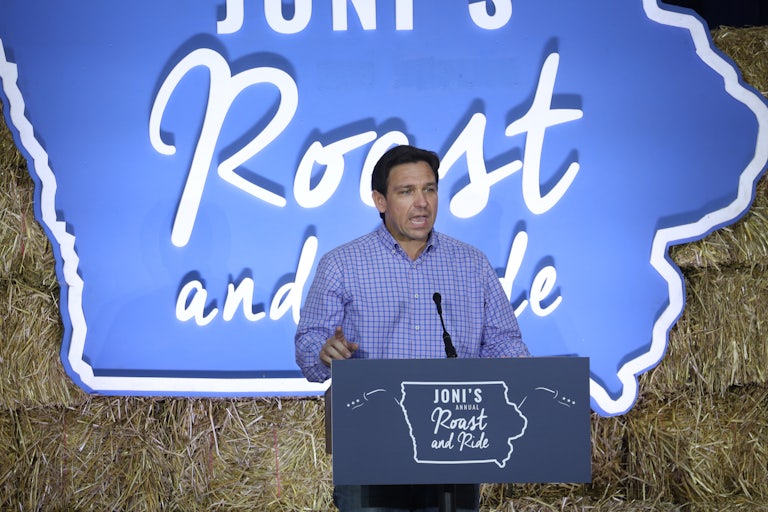 The war on woke is putting me to sleep.
On Saturday, Ron DeSantis joined a slew of other 2024 Republican contenders at Iowa Senator Joni Ernst's "Roast and Ride," an annual Iowa Republican fundraising event.
While there, the Florida governor delivered remarks about his vision for the party—one that has clearly gone so well for it over the past few years.

In this clip alone, DeSantis said "woke" seven times in some 26 seconds.

Of note is that DeSantis's own general counsel has defined the term "woke" as "the belief there are systemic injustices in American society and the need to address them." While it's obviously clear the far right uses "woke" as a catchall for anything they don't like (which usually refers to anything contrary to white, conservative, capitalist-glorifying ideals), it's funny to imagine a candidate who purports himself to be a hardscrabble guy denying the possibility of systemic issues in America needing to be addressed.
Kind of hard to be a populist if you disagree with the notion that systems of power need to be confronted.
Meanwhile, Republican frontrunner and DeSantis role model Donald Trump, who once sold an entire line of woke merchandise, now says he doesn't like the term.
If that all wasn't enough, DeSantis also seems to have copied his brave "war on woke" remarks from a famous speech against fascism, an ideology he has embraced.
American historian Heather Cox Richardson noted that DeSantis's speech exhibited sharp similarities to Winston Churchill's remarks during World War II, in which the British prime minister spoke about the relentless struggle against fascism. "We shall fight with growing confidence and growing strength in the air, we shall defend our island, whatever the cost may be, we shall fight on the beaches, we shall fight on the landing grounds, we shall fight in the fields and in the streets, we shall fight in the hills; we shall never surrender…"