Trump Caught on Tape Bragging About Keeping Classified Pentagon Doc on Attacking Iran
And prosecutors have the recording, making it harder for Trump to just say he declassified all the documents.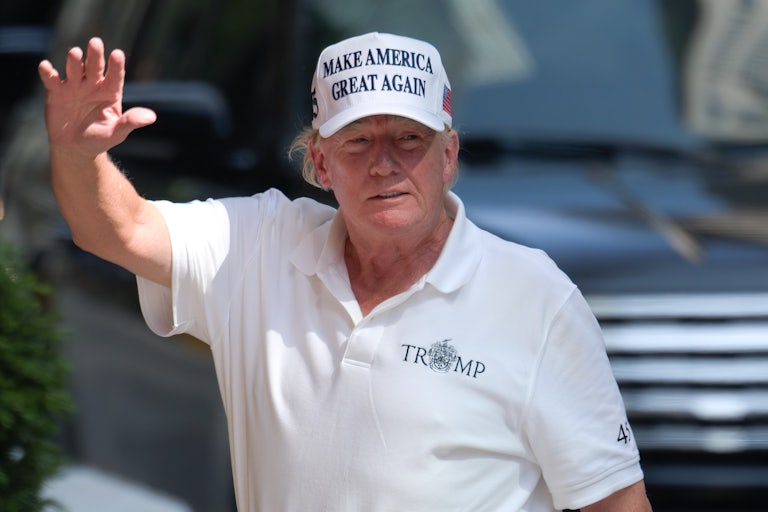 James Devaney/GC Images
Donald Trump knew that he couldn't declassify documents—and now the special counsel investigating him over it has a recording of the former president admitting as much.
Federal prosecutors for Jack Smith have obtained a recording of a meeting held in July 2021, long after Trump had left the White House, during which he says he held onto a classified Pentagon document about a potential attack on Iran, CNN reported. Although CNN has not heard the audio, multiple anonymous sources described it to it.
Trump met with two people working on an autobiography of his former chief of staff, Mark Meadows, at his golf club in Bedminster, New Jersey. Neither writer had security clearance. In the recording, Trump brings up the classified document, which he says came from chairman of the Joint Chiefs of Staff Mark Milley. Trump claims that if he could show it to people, the document would undermine previous reports that Milley had convinced Trump not to attack Iran near the end of his presidency.
Trump refers to the document as if he has it in front of him, and at one point there is the sound of paper rustling "as if Trump was waving the document around," CNN wrote, although it is not clear if it was the paper in question. Sources told CNN that the classified document Trump referred to in the recording was not produced by Milley, but it is a classified Pentagon document about a potential attack on Iran.
The meeting took place six months before Trump's legal team sent 15 boxes of records and classified documents back to the National Archives, and more than a year before the FBI raided Mar-a-Lago, seizing more than 100 documents.
Trump's acknowledgment that he couldn't show the document to people demonstrates that he knew full well that he wasn't able to declassify documents at whim. His allies had previously argued that he had a "standing declassification order" that would immediately declassify any document removed from the Oval Office. Trump himself claimed he could declassify things "just by thinking about it." But he knew it was all bunk.
And now Smith, who is investigating Trump's alleged mishandling of classified documents and role in the January 6 insurrection, has proof on tape.
It's not clear how prosecutors got the recording, but they also recently acquired a slew of records including handwritten notes, transcriptions of audio recordings, and invoices from Trump lawyer Evan Corcoran. A judge ruled in March that some of Trump's attorney-client privileges could be "pierced" after prosecutors for Smith's team found that Trump intentionally misled his own lawyers, including Corcoran, about keeping classified materials when he left office.
Those records reveal that Trump knew he wasn't supposed to keep classified documents. Not only did he do so anyway, but Corcoran was also prevented from searching Trump's office at Mar-a-Lago, where the FBI later found some of the most sensitive material.
Smith has not yet issued any criminal charges, but he seems to be circling ever closer to Trump. And that's not even the end of the former president's legal troubles. Trump is also under investigation in Georgia for his efforts to overturn the 2020 election. He has been indicted on 34 felony counts of falsifying business records for paying hush money to porn actress Stormy Daniels.
Trump was found civilly liable for sexually abusing and defaming writer E. Jean Carroll—and last week, she sued him for defamation again over comments he made about her during a CNN town hall.