GOP Congressman Says Debt Bill Should Go After Low-Income Housing Too
With a House vote on the bill quickly approaching, Glenn Grothman is making one last attempt to cut even more social services.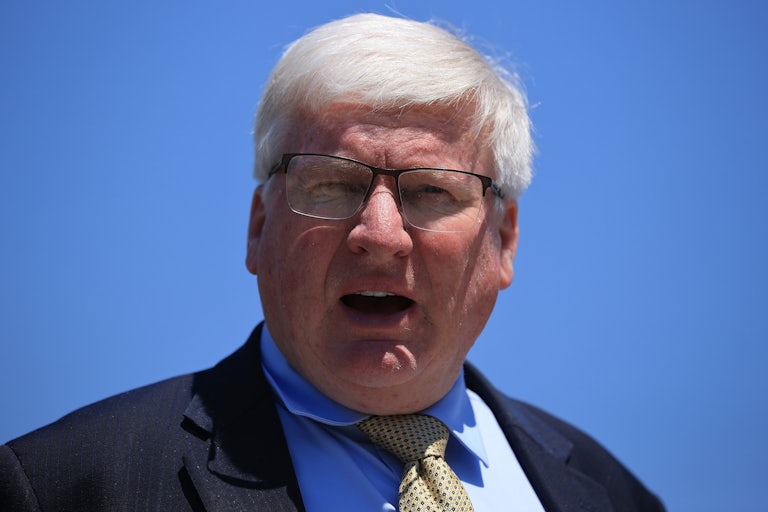 Chip Somodevilla/Getty Images
Representative Glenn Grothman
Republicans are now upset about the debt ceiling bill for another reason: It doesn't go after low-income housing.
The White House–backed debt limit deal narrowly cleared the House Rules Committee on Tuesday by a vote of 7–6. During the meeting, several lawmakers proposed amendments to the bill, including Wisconsin Republican Glenn Grothman. He expressed frustration that the bill would only impose work requirements on food stamps.
"They left low-income housing untouched," he said. "I think as far as discouraging work and discouraging marriage, I think low-income housing is even a more dangerous program than the food stamps. So I'm including low-income housing in the mix of having work requirements."
This is not necessarily a new line of attack for Republicans. When they pushed through their disastrous budget bill in April, their plan included slashing funding for housing and homelessness programs by nearly a quarter. Housing advocates warned that hundreds of thousands of families could face eviction and possible homelessness if the policy were implemented.
This is one of the first times, though, that the GOP has been so vocal in opposing low-income housing. It's also definitely the first time that someone has argued affordable housing discourages people from getting married.
Very few people seem to like the debt deal, with far-right Republicans arguing it hasn't gone far enough with spending cuts and progressives warning it has gone too far in cutting aid. A major sticking point for progressives is the changes to food assistance. The bill would impose work requirements for the SNAP program, or food stamps, and lower the number of people who qualify for work requirement exemptions.
The bill would also change the Temporary Assistance for Needy Families program, potentially making it harder to get cash assistance. What's more, the Congressional Budget Office found that food stamp work requirements wouldn't actually help the deficit.
Grothman put his amendment forward the day before the House's expected vote and just a few days before the United States is expected to default. His move is a sign that some far-right Republicans won't go down without a fight. Even if the bill passes, they're going to try and take down every social service they can in the process.