Republicans Just Barely Pass Their Radical and Useless Debt Bill
Congrats to Kevin McCarthy for selling his soul for this bill.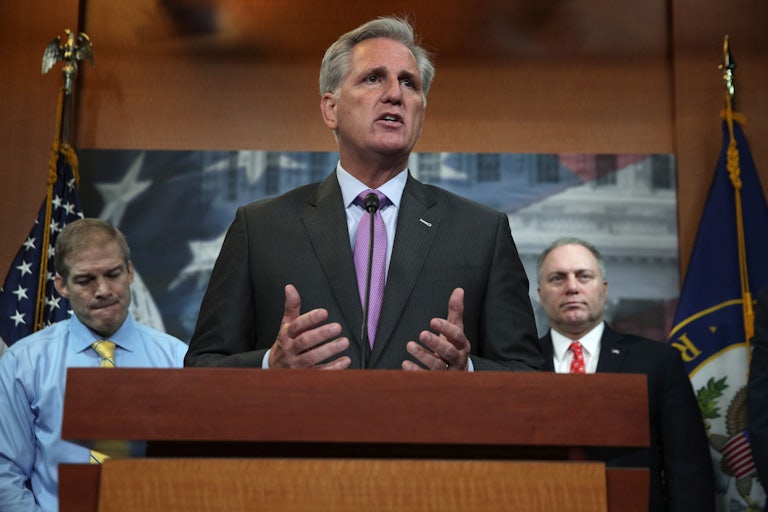 Alex Wong/Getty Images
Republicans have passed their debt bill that in fact does nothing fiscally responsible and, more immediately, will probably not pass the Senate and definitely will not pass Biden's desk.
On Wednesday, after much ado and push-and-pull, the bill just barely passed at 217–215, with four Republicans voting against.

Last week, Republicans introduced their "plan," that, at its core, would further indebt America and millions of people within.
The bill's main priorities include instating work requirements for Medicaid and food stamps, reducing funding for the Internal Revenue Service, repealing green energy programs, and blocking Biden's student loan forgiveness plan.

Republicans have filed a provision to make Medicaid recipients fulfill certain income and work requirements; if they don't, Republicans want to kick them off their health insurance plans.
They also inserted a provision for work requirements for the Supplemental Nutrition Assistance Program, or SNAP. Adults without children would have to fulfill work requirements up to the age of 56, overturning current law that has the threshold at age 49.

Republicans also voted to cut funding from the IRS after Biden buttressed it. A Congressional Budget Office analysis found that the IRS program would reduce the deficit by $120 billion over the next decade (ergo, if Republicans got their way, they would add to the deficit).
Finally, the Republican proposal aims to repeal an array of already-passed Inflation Reduction Act provisions, like tax credits for electric vehicles, and block Biden's plan to relieve 43 million people from crippling student debt.
And since the bill was first introduced last week, it has somehow gotten worse.
After last-minute negotiations with fellow Republicans, McCarthy and leadership agreed to more restrictive changes. The final bill tightens rules for social welfare programs even further and repeals more elements of the IRA (on energy-efficient construction codes, loans for energy infrastructure projects, neighborhood transportation access, climate pollution, and the status of our National Parks).
What is remarkable is that Republicans are looking to screw over Americans either way. If, somehow, this bill passed, millions of Americans would have the boot of the government on their necks in the form of Social Service austerity and bloated student debt. It would also make America even more susceptible to climate disaster by virtue of prolonging our already delayed energy transition.

And if the bill doesn't advance any further, as it probably will not, Republicans increase the risk that America will default, which would lead to catastrophic consequences, including interrupting federal spending on Social Security, Medicare, and even federal salaries. The default would also upend global financial stability.

"We are focused on painting for the American people what is going to happen if they default," House Minority Whip Katherine Clark told TNR. "The costs are going to be borne by everyday Americans in skyrocketing costs."
Pablo Manríquez contributed reporting to this story.