There Are More News Crews Than Trump Supporters at the Protest in New York
Trump fans are not showing up for the former president ahead of his indictment.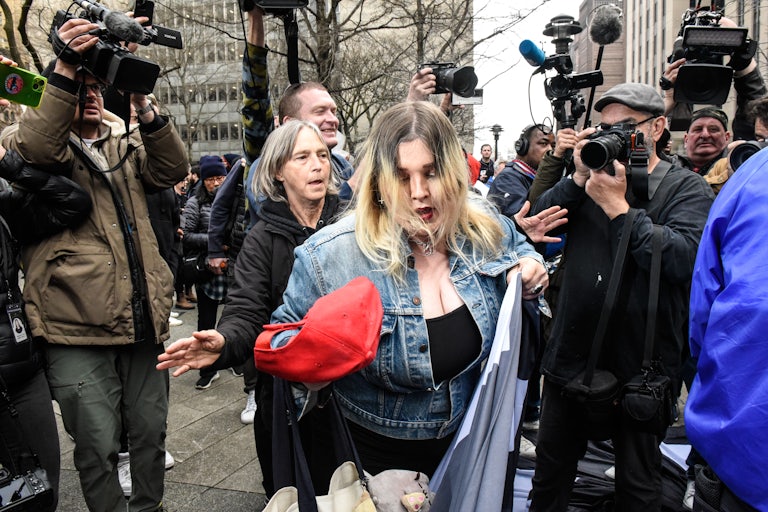 Stephanie Keith/Bloomberg/Getty Images
A Trump supporter and a protester clash outside the criminal court in New York on April 4.
On Tuesday, as Donald Trump is set to be formally arraigned, tens of people came out in support of the twice-impeached and now criminally indicted former president.
As with an earlier pro-Trump protest in late March, there appeared to be a very large group of media reporters for every one Trump supporter.
The protest also hosted other Republicans especially unfit for office, like Representatives George Santos and Marjorie Taylor Greene.
Greene, alas, was drowned out by the few protesters there and unable to carry out whatever performance she had planned.
Indeed, whatever words she did have to say were likely heard more by the cameras than by any protesters.
On one hand, the Trump indictment has already brought out the worst instincts in the political media. TV networks have incessantly blared every minor development in Trump's movements, from Florida to New York.
But it's not just Fox News; other networks are guilty too. And with CBS's latest appallingly deferential interview with Greene, there's reason to worry that the establishment media has no intention of heeding lessons from 2016.
Surely, the media ought to be present for Trump's arraignment and suspected protests. But the sheer disproportionality doesn't portend well. If tens of radicals protesting the indictment of a former president for using a shell company to pay hush money to a porn actress garner this much attention, events like a Florida lawmaker being arrested for advocating for abortion rights or three Tennessee lawmakers facing expulsion and even assault after standing with children protesting gun violence warrant so much more.

But given the hardened conventions of mainstream television media, we already know what will get more attention.