Florida Senate Passes Bill Banning Abortion After Six Weeks
This will have massive repercussions on abortion access in the South.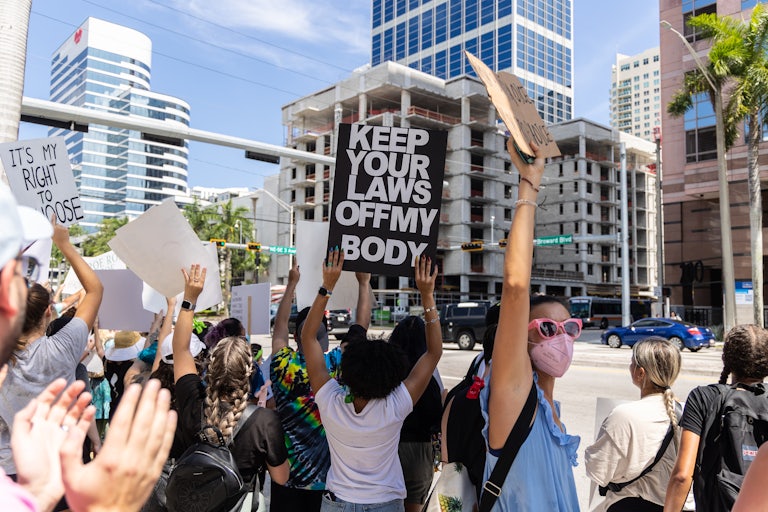 John Parra/Getty Images for MoveOn
The Florida Senate passed a bill Monday banning abortion after six weeks, a measure that is expected to quickly and easily become law.
Senate Bill 300 passed by a vote of 26–13. The bill prohibits abortion after six weeks, down from 15 weeks and before many people even know they are pregnant. It makes exceptions for rape, incest, fetal abnormalities, or to save the pregnant person's life. However, two doctors have to agree the abortion was "necessary," and the patient "must provide a copy of a restraining order, police report, medical record, or other court order or documentation proving" they were the victim of rape or incest.
"I know many of you fundamentally believe abortion is wrong. So guess what? No one is forcing you to have an abortion," said Senator Tina Polsky. "But don't tell me, my daughters, and all the daughters of Florida that they can't do that if it's right for them."
A similar bill was introduced in the House of Representatives in early March and is still in committee hearings. Republicans hold a supermajority in the state legislature, and they and Governor Ron DeSantis are unlikely to face much opposition in their attempts to make the near-total abortion ban a reality.
The bill passed Monday would also ban individuals, government agencies, and public education institutions from using state funds to help someone travel out of state for an abortion, unless it is medically necessary to save the pregnant person's life, or unless those groups are already legally required to use federal funds for such aid.
The bill would also lower the amount of money that the state Department of Health is required to spend on pregnancy and parental support services to 85 percent, down from 90 percent. These services include pregnancy testing, counseling, prenatal classes, adoption education, and material aid such as diapers and formula. Abortion rights advocates regularly point out that states with some of the toughest abortion laws often fail to set up social welfare systems to support children after they are born. People can currently receive such support for up to a year after the child is born. The bill removes that element.
The measure removes the clause that specifically states abortion regulations "may not impose an unconstitutional burden on a woman's freedom to decide whether to terminate her pregnancy," specifically stripping away people's autonomy.
The vote was temporarily delayed when protesters shouted at Republican senators that "people will die" if the abortion ban is passed. The chamber took a 10-minute recess while security cleared the gallery.
If it becomes law, as it is expected to, S.B. 300 will have a significant negative effect across the rest of the South. Florida currently allows abortion up to 15 weeks and has become an abortion haven in the region, as many neighboring states have imposed harsher restrictions on the procedure since Roe v. Wade was overturned.