Trump Showed Top Secret Classified Docs to His Super PAC Friend
He also hid documents in his bedroom and shower, according to the special counsel.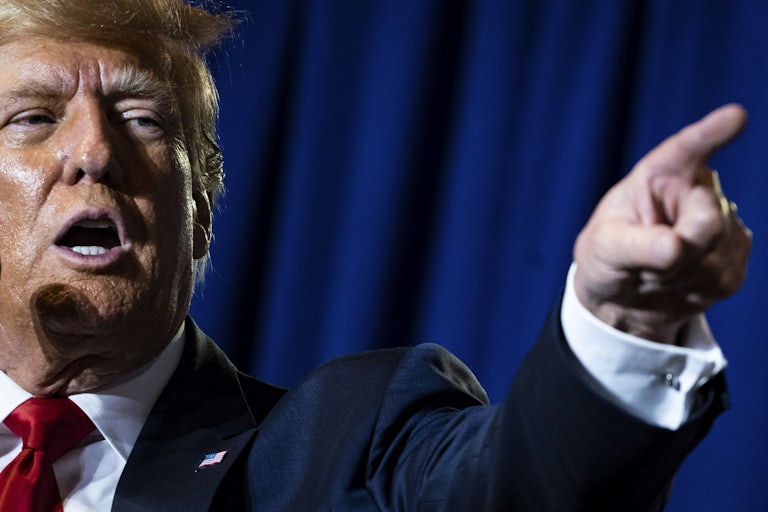 Jabin Botsford/The Washington Post/Getty Images
Donald Trump was so loose with secret government documents, he was showing them to someone from his super PAC and hiding them in his shower.
After being impeached twice, criminally indicted, and found liable for sexual abuse and defamation, the former president has now received 37 criminal counts for mishandling classified government documents.
The indictment, released Friday, lays out wild details about how Trump handled the documents, even being "personally involved" in packing up the boxes full of the classified information as he left the White House.

After transporting the classified documents to Mar-a-Lago, Trump apparently hid the boxes in a Mar-a-Lago ballroom, bathroom and shower, an office, his bedroom, and a storage room.
At the Bedminster Club in New Jersey, in August or September 2021, Trump allegedly showed a representative of his PAC—who did not have security clearance—"a classified map related to a military operation and told the representative that he should not be showing it to the representative and that the representative should not get too close."

All told, Trump allegedly retained classified documents from seven agencies, including the Central Intelligence Agency, Department of Defense, National Security Agency, and State Department.

Also at the Bedminster club, Trump showed a writer, a publisher, and two members of his staff—none with security clearance—a "plan of attack" that was apparently prepared for him by the DOD and a senior military official. He called it "highly confidential" and "secret," adding, "As president I could have declassified it," and, "Now I can't, you know, but this is still a secret." Previous reporting indicates this may have been a Pentagon document on a plan to attack Iran.
In the August Mar-a-Lago FBI search alone, out of the 102 documents recovered, 17 were classified as "Top Secret," 54 were "Secret," and 31 were "Confidential."
Before said raid, and after Trump was issued a subpoena in May, one of Trump's attorneys had recounted that Trump apparently said, "I don't want anybody looking, I don't want anybody looking through my boxes, I really don't," and "Well what if we, what happens if we just don't respond at all or don't play ball with them?" and even "Wouldn't it be better if we just told them we don't have anything here?"
Note, again, while others, including Joe Biden and Mike Pence, have been found to have possessed classified documents from previous administrations, each have complied with inquiries and in returning documents expeditiously, something Trump demonstrably did not do and has actively obstructed.