Republicans Lash Out After Trump Indictment: "We Have Now Reached a War Phase"
Republicans are doubling down on their defense of Donald Trump.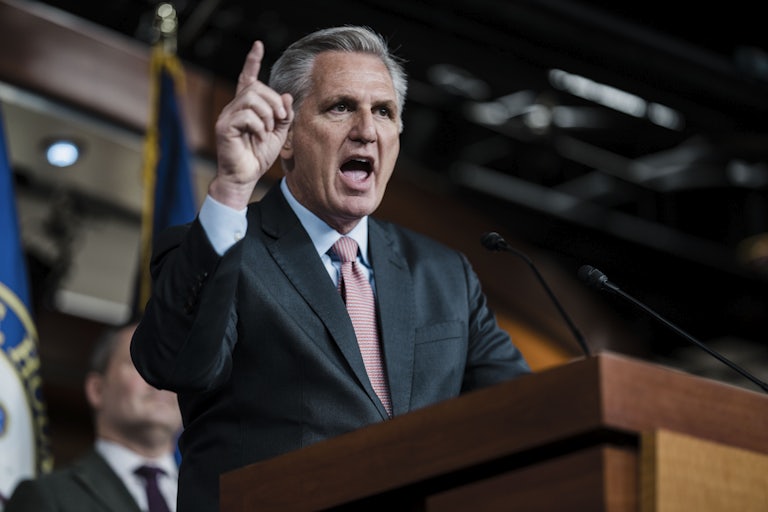 Kent Nishimura/Los Angeles Times/Getty Images
House Speaker Kevin McCarthy
Twice-impeached, criminally indicted, and liable for sexual abuse former President Donald Trump has been indicted once again, this time for taking classified documents away from the White House and refusing to give them back.
The unsealed indictment held many damning revelations, from Trump being "personally involved" in packing up boxes full of classified information as he left the White House, to flaunting the secret documents to staffers, a publisher and writer, and even a representative of his PAC.
Showing off one classified document from the Department of Defense, he called it "highly confidential" and "secret," adding, "As president I could have declassified it," and, "Now I can't, you know, but this is still a secret."
And despite all that, prominent Republicans have been quadrupling down—violently—on defending the man that has helped lead them lose election after election.
"We have now reached a war phase," Representative Andy Biggs tweeted Friday. "Eye for an eye," he added, ignoring that a Florida grand jury decided on its own accord to indict the former president.
"These are just thugs that are going after President Trump," Representative Tim Burchett followed, technically calling the jury of Trump's peers the pejorative. "Now granted, he's not perfect. He shouldn't have had the files. I get that. But neither should Clinton. Neither should Reagan. Neither should either Bush. Neither should Obama and definitely not Biden, but they all do, and they all have." Nothing has indicated that every single former president or vice president has taken classified documents out of the White House upon departure; those who have been found, including Mike Pence and President Biden, have promptly returned any documents found. Which Trump actively chose not to do.
Senator Mike Lee did not even engage one ounce with the charges, instead saying, "The Biden administration's actions can only be compared to the type of oppressive tactics routeinly seen in nations such as Venezuela, Bolivia, and Nicaragua, which are absolutely alien and unacceptable in America." According to Lee, holding a former president accountable for holding secret documents and actively taking steps to hide them somehow "echoes despotism, making it fundamentally at odds with American democratic values."
(At least to the last part, Lee is not entirely wrong: it is fundamentally at odds with American history to hold presidents accountable for their crimes—from Iran Contra, to our laundry list of war crimes and military invasions, to sexual harassment.)
"Today is indeed a dark day for the United States of America," House Speaker Kevin McCarthy said on Twitter before the indictment was even unsealed. "It is unconscionable for a President to indict the leading candidate opposing him. Joe Biden kept classified documents for decades. I, and every American who believes in the rule of law, stand with President Trump against this grave injustice. House Republicans will hold this brazen weaponization of power accountable," he finished, assuring that there is no doubt: the Republican Party is planting its flag in supporting a man already found guilty of other crimes.
Ohio Senator J.D. Vance followed suit, saying the indictment is somehow Biden "using the justice system to preemptively steal the 2024 election," in order to attack "his most likely 2024 opponent." A wild suggestion given the basic fact that a grand jury of Americans voted to indict Trump, not Biden.

Nancy Mace pretended to not even be aware of a recording of Trump admitting that he knew the documents were classified and that he couldn't declassify them, immediately pivoting instead to talking about Biden and Pence, who, again, both complied with returning documents upon discovery.
And, of course, the right's attempts to already peddle theories about Biden stealing an election are dangerous, given so many of their own most prominent figures were caught red-handed trying to overturn the 2020 election.
"We're living in a 3rd world Banana Republic," Donald Trump, Jr. said about a country holding someone accountable for taking classified documents, refusing to give them back, and then lying about it. If they can do it to you, they can do it to anyone, patriots.
And as far as general meltdowns go, Representative Clay Higgins may be in the deeper end.

Presented without comment.
This post has been updated.