Supreme Court Surprises Us All and Delivers Major Win for Voting Rights
The 5–4 decision ruled in favor of Black voters.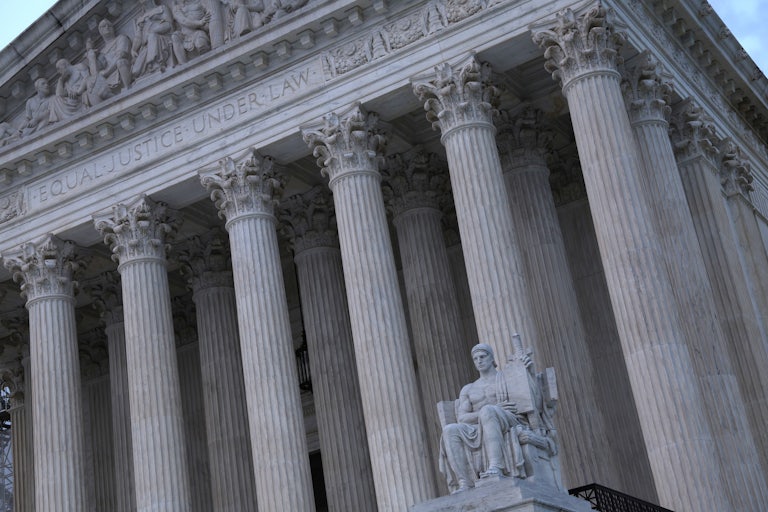 Alex Wong/Getty Images
The U.S. Supreme Court ruled Thursday in favor of voting rights for Black residents of Alabama, in a total shock to everyone.
Chief Justice John Roberts and Justice Brett Kavanaugh joined the three liberal justices, ruling 5–4 that Republican-drawn congressional districts in Alabama discriminated against Black voters under the Voting Rights Act.
This means that the seven congressional districts will now be redrawn. More than a quarter of Alabama residents are Black, but only one of Alabama's seven congressional districts is majority-Black. Black voters are scattered throughout the other districts, dramatically reducing their ability to elect their preferred candidates. As a result of the racial gerrymandering, the state only has one Black representative.
A three-judge district court ruled unanimously in January 2022 that the map violated the Voting Rights Act by diluting Black votes, and ordered a new map be drawn. The judges ruled that Alabama's Black population was large enough, and concentrated enough in one area, that there could be two majority-Black districts.
The state appealed the case to the Supreme Court, which heard arguments in October. While the case was ongoing, the map was used during the 2022 midterm elections.
Roberts wrote the majority opinion, and repeatedly rejected Alabama's arguments in favor of keeping the current map as "unpersuasive" or of "little merit."
"The Court's opinion does not diminish or disregard the concern that [the Voting Rights Act] may impermissibly elevate race in the allocation of political power within the States," he wrote. "Instead, the Court simply holds that a faithful application of precedent and a fair reading of the record do not bear those concerns out here."
Alabama's new districting map could prove crucial to Democrats' ability to retake the House of Representatives in 2024.

This post has been updated.