Chris Christie Takes on the Trumps: "The Grift From This Family Is Breathtaking"
Christie seems to be the only Republican candidate willing to directly criticize the Trumps.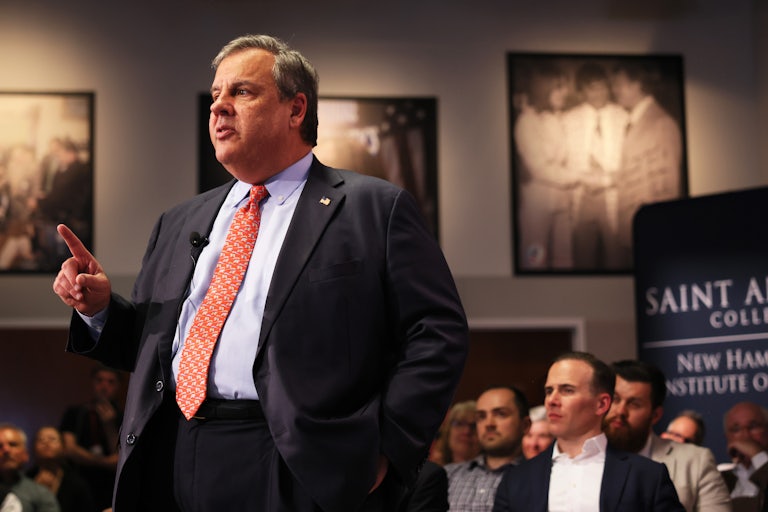 Michael M. Santiago/Getty Images
Chris Christie isn't holding back on the Trump family anymore, calling them out for "breathtaking" corruption during his official presidential campaign launch.
Christie had been a major supporter of Donald Trump since dropping out of the 2016 election, even running his 2020 reelection campaign. But apparently, Trump's refusal to accept the election results was a bridge too far, and Christie has since pivoted sharply.
"The grift from this family is breathtaking," Christie said during his Tuesday night launch event, a town hall in New Hampshire. "It's breathtaking. Jared Kushner and Ivanka Kushner walk out of the White House, and months later get $2 billion from the Saudis."
Christie was referring to a $2 billion investment made by a sovereign wealth fund, which Kushner used to start his private equity firm A Fin Management LLC in 2021. The fund is chaired by Saudi Crown Prince Mohammed bin Salman, who ordered the killing of Washington Post columnist Jamal Khashoggi. And Trump and Kushner looked the other way after his murder.
"You think it's 'cuz he's some kind of investing genius? Or do you think it's 'cuz he was sitting next to the president of the United States for four years doing favors for the Saudis?" Christie asked the crowd, referring to Jared Kushner. "That's your money he stole and gave it to his family. You know what that makes us? A banana republic."
Christie seems to be the only Republican candidate willing to call Trump (and his family) out, but it doesn't seem to be doing him any good just yet. RealClearPolitics took the average of the results of several presidential primary surveys and found that Christie has just 1 percent of support.