Exxon CEO Says ESG Is Good, Actually
Has one of the world's biggest oil and gas drillers gone woke?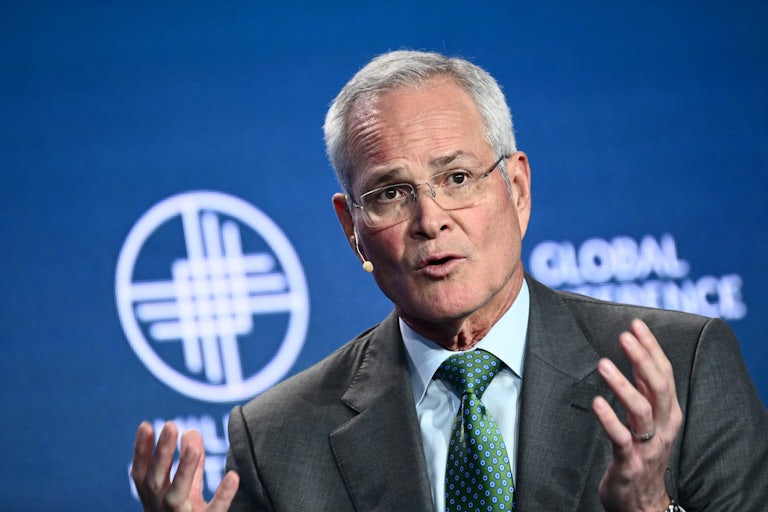 ATRICK T. FALLON/AFP/Getty Images
Exxon CEO Darren Woods attends a conference in May.
Has ExxonMobil CEO Darren Woods been infected by the woke mind virus? At a conference hosted by the financial analytics firm Bernstein, Woods—who enjoyed a 52 percent pay bump in 2022 amid soaring profits—spoke fondly about environmental, social and governance principles. ESG, as the abbreviation goes, has become a bogeyman for the right in recent years: Conservative state legislatures continue to pass sweeping bans on public employee pension funds' ability to consider things like climate change in their investment decisions.
But Woods gave a hearty endorsement for why his company employs ESG principles throughout its operations on Thursday. "I don't think any company's been around—particularly one that has the exposure that we do with regards to the impact on the environments and communities that we operate in—I don't think you can survive for 140 years and not have ESG elements, or the focus of ESG, embedded in your organization," he said, calling it a "really critical component of our success."
This is a funny statement for two reasons. First, the day before the conference, Exxon shareholders—in line with recommendations from corporate management, including Woods—voted down all of the 13 climate resolutions put before them. Eight-nine percent rejected a petition to have them set emissions-reduction targets consistent with the goals of the Paris Agreement, to limit warming to well below two degrees Celsius. The measure that earned the most support from Exxon shareholders (36 percent) stipulated that the company should report more about its methane emissions.
Second, when right-wing politicians funded by dark money rant about how bad ESG is, they typically claim they're defending fossil fuel companies. These politicians say fossil fuel companies are being unfairly maligned by the likes of Blackrock CEO Larry Fink and other globalists looking to undemocratically enforce the whims of investor-led climate efforts like the Glasgow Financial Alliance for Net-Zero (a toothless group of banks, asset managers and insurance companies).
Yet as Woods conveyed on Wednesday, ESG is principally a way to ensure that companies can continue to make as much money as possible—whether by examining the risks that climate change might actually pose to their operations or by burnishing their green credentials with flashy pledges. "Using" ESG in one's day-to-day operations, ironically, doesn't actually mean reducing fossil fuel use—the thing the right is most worked up about.

For companies like Exxon, the ginned-up culture war over largely cosmetic differences in business strategy is a win-win: While they can talk up their company's ESG moves to curry favor with liberals, right-wing attacks simultaneously provide cover for them to stop paying as much lip service to climate change and continue proudly with business as usual. Last year, 28 percent of the company's shareholders voted for the resolution asking Exxon to align its emissions targets with the goals of the Paris Agreement. This year, with Republicans complaining about ESG to anyone who will listen, the same resolution received less than half that level of support. If you're an oil and gas executive, ESG raises one key question: What's not to love?