Montana's New Anti-Drag Law Is So Vaguely Worded It Could Target Dolly Parton
The radical drag ban has officially been signed into law.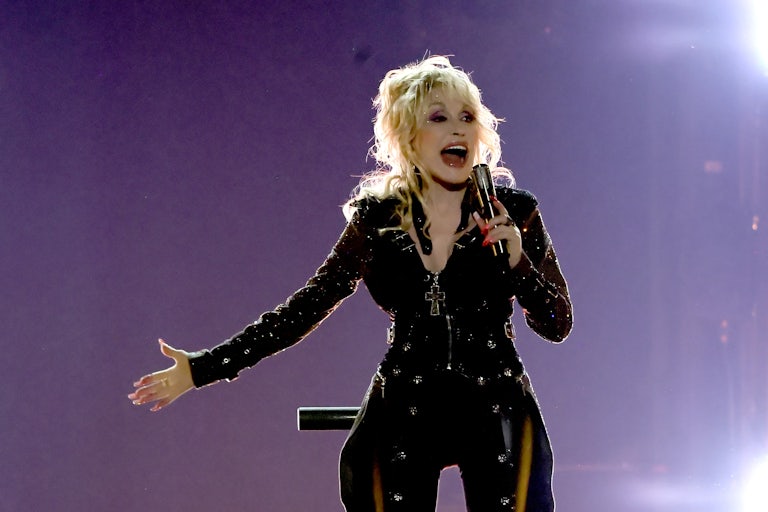 Theo Wargo/Getty Images
Governor Greg Gianforte has signed an extreme and vaguely worded bill that aims to ban drag performances in front of minors but actually goes much further than that.
The new law, which Gianforte signed on Monday, defines drag performers as "a male or female performer who adopts a flamboyant or parodic feminine persona with glamorous or exaggerated costumes and makeup." When it was first introduced, journalist and transgender rights activist Erin Reed pointed out that the measure could affect glam rock, wrestling, and even performances by Dolly Parton. Queen Dolly herself has said she has exaggerated her appearance to be "flashy" and "flamboyant."
The ban categorizes any business that serves alcohol and hosts a drag show as a "sexually oriented business." The law bans these businesses from allowing minors to enter during a "sexually oriented performance," and it also prohibits any kind of "sexually oriented activity" in a public space when a minor is present. Businesses could face a fine of up to $10,000 and even lose their liquor license if they repeatedly violate the law.

The law is also the first to specifically ban drag story hours, an event where drag queens read stories to children, which are not at all sexual in nature. Public schools or publicly funded institutions such as museums and libraries are prohibited from hosting drag performances. The institution would be fined $5,000 for hosting a show, and the staff member who approved it could lose their teaching or librarian certification.
"We have white [cisgender] individuals that have zero experience within the drag community providing a legally binding definition of what drag art is," drag performer Anita Shadow told the Montana Free Press. "I think I speak for the community when I say that is hurtful, degrading, and it's a misunderstanding."
Several legal organizations have already spoken out against the law, arguing that it violates the First Amendment. Montana-based nonprofit law firm Upper Seven Law has already pledged to challenge the drag ban in court.
The Human Rights Campaign warned that the law will "further alienate members of Montana's LGBTQ+ community." "It's a sad state of affairs when extremist politicians enact new laws that hurt their constituents instead of helping them," legal director Sarah Warbelow said in a statement.
Montana is now the third state to ban drag performances, after Tennessee in March and Florida earlier this month. The Tennessee law was blocked by a judge for violating free speech rights, but Pride groups in Florida are already canceling events in light of the new legislation.