Ted Cruz, Using His Goldfish Brain, Attacks the NAACP for Florida Travel Advisory
On second thought, that's an insult to goldfish.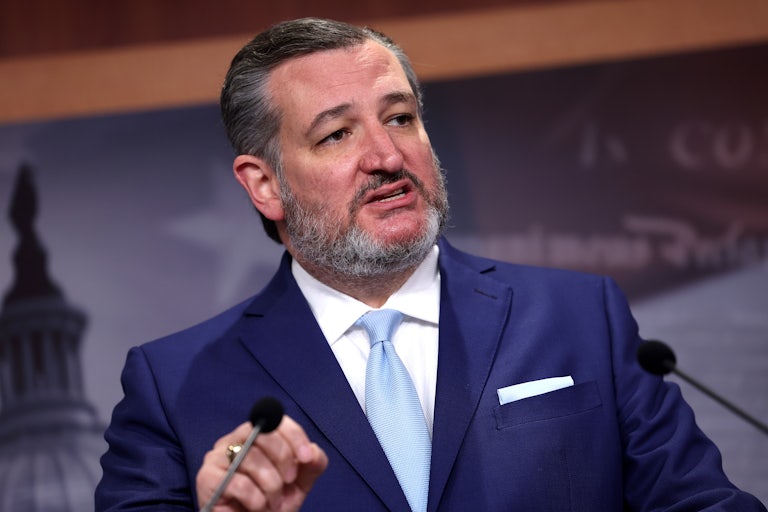 Kevin Dietsch/Getty Images
Texas Senator Ted Cruz
It's amazing that the most powerful people in the United States get to also be remarkably lazy and incredibly dull. And Ted Cruz is the cream of the crooked crop.
Over the weekend, the NAACP issued a travel advisory for Florida, stating that the state is "openly hostile toward African Americans, people of color and LGBTQ+ individuals." The advisory came, according to the historic organization, in response to Ron DeSantis's "aggressive attempts to erase Black history and to restrict diversity, equity, and inclusion programs in Florida schools."
Senator Cruz, ever the galled-fellow, called the move "utterly dishonest."
American historian Kevin Kruse responded, pointing out that despite Cruz's (and other Republicans') insistent invocation of Martin Luther King Jr., the civil rights leader's political legacy simply doesn't align with conservatives' views on race in America.
Cruz retorted by repeating what Kruse had already said, that George Wallace was a Democrat, as if that was some exculpatory evidence that conservatives are the real torchbearers of King's legacy, and the left, actually, are the real racists.
Of course, Cruz either still somehow doesn't know or, more likely, willfully ignores basic history to whip up outrage among any impressionable followers. Wallace was among the slate of twentieth-century Democrats who deployed the "Southern strategy": increasing support among white voters by whipping up racist sentiment against African Americans.
Sounds familiar to exactly what Cruz is doing by attacking the National Association for the Advancement of Colored People for its bold act of expressing concern for Black people, huh?
After all, Wallace's speeches, which railed against "hippies," civil rights "agitators," "lazy" welfare recipients, atheists, "pointy-headed intellectuals," "anarchists and Communists," antiwar "radicals and rabble-rousers," and beatniks are something you might readily hear on any number of programs hosted by Cruz's media circle, from Ben Shapiro and Michael Knowles, to Cruz's own armchair-and-cigars podcast (one he hosts almost daily, when he instead could be serving the people who elected him).
But the idea that political party names (Republican, Democrat) don't correspond to the ideologies beneath them and can change throughout time is simply too complicated for Cruz's mental capacity, or, more likely, too historically true for his offensive pursuit to proselytize a made-up view of America. It seems impossible for Cruz—who has pathetically bowed down to a serial criminal and sexual abuser who has insulted Cruz's own wife—to imagine that members of a political party could actually criticize and separate themselves from detestable figures who claim to be part of the same party.
For what it's worth, note that the NAACP's advisory was certainly not a dismissal of Florida. "The NAACP proudly fights against the malicious attacks in Florida, against Black Americans. I encourage my fellow Floridians to join in this fight to protect ourselves and our democracy," said Leon Russell, chair of the NAACP Board of Directors.