Florida GOP Bill Would Require Bloggers Who Write About Ron DeSantis to Register With the State
First Amendment or nah?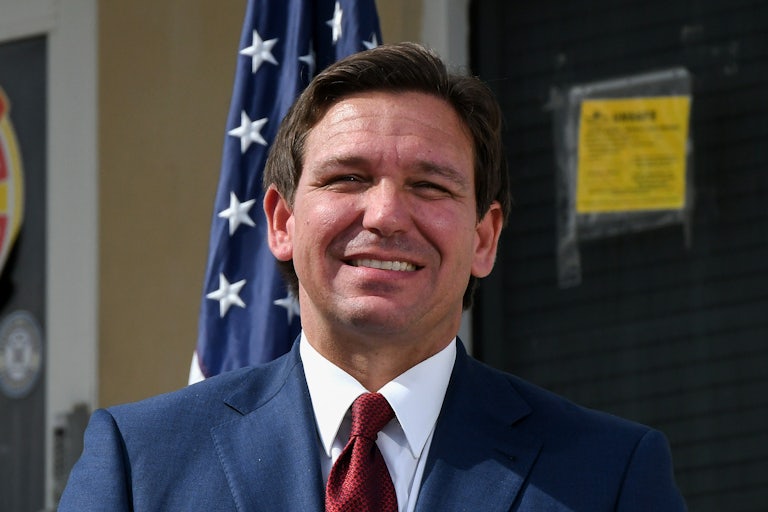 Paul Hennessy/SOPA Images/LightRocket/Getty Images
Ron DeSantis
A Florida Republican lawmaker has introduced a bill that would require paid bloggers who write about elected officials to register with the state.
The bill, which was introduced Tuesday, applies to bloggers covering Governor Ron DeSantis, his Cabinet, and the state legislature. The bloggers would have to register with the state government and then self-report every time they write a story about lawmakers, as well as how much they were paid for the posts and who paid them.
If the bloggers fail to report their stories within five days of publication, they will face fines of $25 a day, up to $2,500.
"Paid bloggers are lobbyists who write instead of talk," state Senator Jason Brodeur, the bill's sponsor, said. "They are both professional electioneers. If lobbyists have to register and report, why shouldn't paid bloggers?"
Creating a registry of political writers and independent journalists would only allow for increased surveillance, and smacks of authoritarianism. DeSantis has remained a constant in headlines as of late for cracking down on human rights in his state, particularly for people of color and women and gender minorities. The Republican, seen as a front-runner for the Republican 2024 presidential nomination, has declared war on all things "woke" and is clearly making good on his promise.
Brodeur too is no stranger to controversy. He was elected in 2020 with just 50.3 percent of the vote, and there have been accusations that a "ghost candidate"—someone recruited to help sway the election results—siphoned thousands of votes away from Brodeur's Democratic opponent.
His new bill is highly unconstitutional and unlikely to survive if challenged in court, according to New York–based First Amendment lawyer Ron Kuby.
"It's hard to imagine a proposal that would be more violative of the First Amendment," Kuby told NBC. "We don't register journalists. People who write cannot be forced to register."