Is Ron DeSantis a Robot? An Investigation (in Pictures)
The Florida governor seems to have a hard time acting fun and normal in public.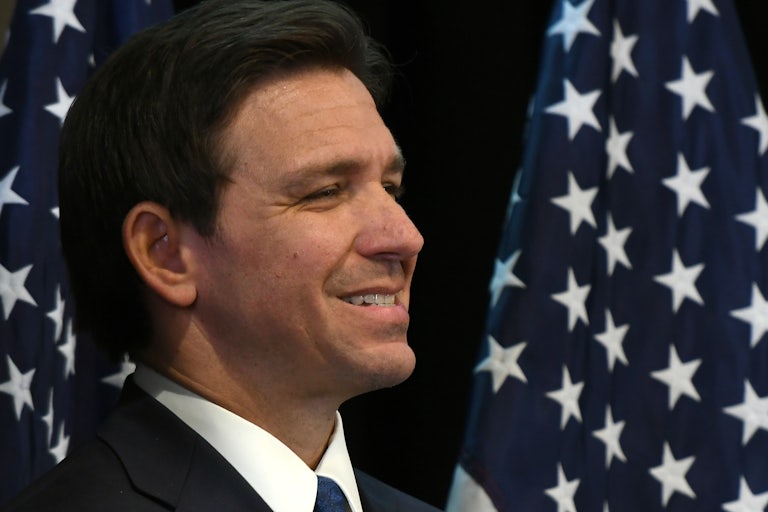 Paul Hennessy/SOPA Images/LightRocket/Getty Images
Many politicians have gotten away with behaving slightly weird, if not totally unsettlingly, especially in recent years. Perhaps that's helped by the former president being as absurdly unusual and villainously criminal as he is. But still, Ron DeSantis is finding a way to make sure his bizarre behavior not only cuts through the headlines but remains burned into our minds forever.

As the Florida governor gets closer to finally announcing his run for president, he has had more and more time in the public eye, which means more opportunities to show how normal and fun he is—in case his vicious agenda against queer people, migrants, women, students, and teachers didn't already win you over.
Last week, as DeSantis was soft-campaigning in Iowa, he made some friendly banter and refocused people's attention on his … jovial behavior.
The moment brought back memories of just weeks ago, when DeSantis had a warm back-and-forth with Piers Morgan, in which the Florida governor robotically laughed while denying reports of his eating chocolate pudding with three fingers.
There was also the time DeSantis short-circuited in Tokyo when he was asked about his falling poll numbers in the 2024 primary.
To be clear, DeSantis's aesthetics are just incidental. Emotion and expression aren't bad things for a politician to display, even if you laugh like a Chuck-e Cheese animatronic. What's more important is how little emotion or sorrow DeSantis seems to genuinely express about the pains of our world. Mass shootings, climate disaster, the plight of migrants; the struggle for people to find out who they are and who they love—all things any good-willed politician might express some sort of something about; instead, DeSantis is the front-runner in exacerbating those pains.
So while he may not end up winning the presidency, DeSantis can take solace knowing his leadership in hurting millions of people, with a show-stopping personality to match.