Trump's DeSantis Pudding-Fingers Attack Ad Is So Messy
This will follow DeSantis everywhere.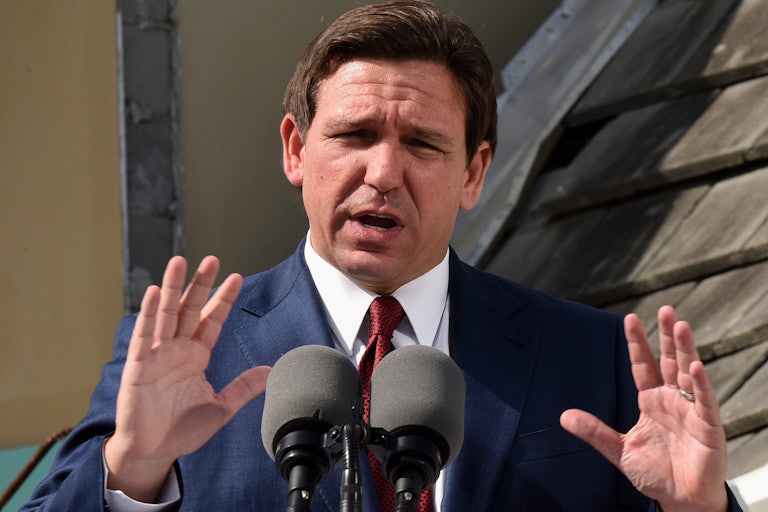 Paul Hennessy/SOPA Images/LightRocket/Getty Images
Donald Trump's team has clearly identified Ron DeSantis as the biggest challenger for the 2024 Republican presidential nomination, and they are going after the governor hard.
The Make America Great Again, Inc., PAC released an ad Friday attacking a few of DeSantis's policies but mainly highlighting a month-old report that the governor once ate pudding with his fingers.
"Ron DeSantis loves sticking his fingers where they don't belong, and we're not just talking about pudding," the ad narrator said.
The Daily Beast reported in March that DeSantis used his fingers to eat chocolate pudding while on a plane trip in 2019.

"He would sit in meetings and eat in front of people," a former DeSantis staffer told The Daily Beast, "always like a starving animal who has never eaten before … getting shit everywhere."

Enshrined in DeSantis lore is an episode from four years ago: During a private plane trip from Tallahassee to Washington, D.C., in March of 2019, DeSantis enjoyed a chocolate pudding dessert—by eating it with three of his fingers, according to two sources familiar with the incident.
DeSantis has denied the story, which has big salad-comb vibes.
But Team Trump seized on the story anyway, and the ad—while deeply weird and unsettling to watch—admittedly does an excellent job of undermining DeSantis's self-styled persona as a right-wing, "anti-woke" warrior.
The ad comes the day after members of Trump's inner circle tore into DeSantis for going on a book tour as parts of his state struggle with record rainfall and major flooding. Fort Lauderdale, in southern Florida, got about 26 inches of rain in a 24-hour period. A meteorologist for the National Weather Service described the rainfall as a "1-in-1,000 year event, or greater." But the mayor of Fort Lauderdale said Thursday that DeSantis had yet to contact him.
"Fort Lauderdale is under water and DeSantis is campaigning in Ohio right now instead of taking care of the people suffering in his state," Donald Trump Jr. tweeted.
Far-right activist and Islamophobe Laura Loomer, whom the Trump campaign is reportedly considering hiring, tweeted, "Instead of doing his job, today @GovRonDeSantis is flying to Ohio to campaign for President."
The ad has already aired on Fox News, CNN, and Newsmax.
DeSantis has yet to formally announce that he is running for president, although he is widely expected to. Trump has previously attacked DeSantis, nicknaming him "Ron DeSanctimonious'' and "Meatball Ron." Now that the attacks are ramping up, it's clear that he and his team view DeSantis as Trump's biggest threat.