What Is Ron DeSantis Hiding Beyond His Travel Records?
The Florida governor has signed a bill blocking all details about his travel, including where he goes and who he goes with.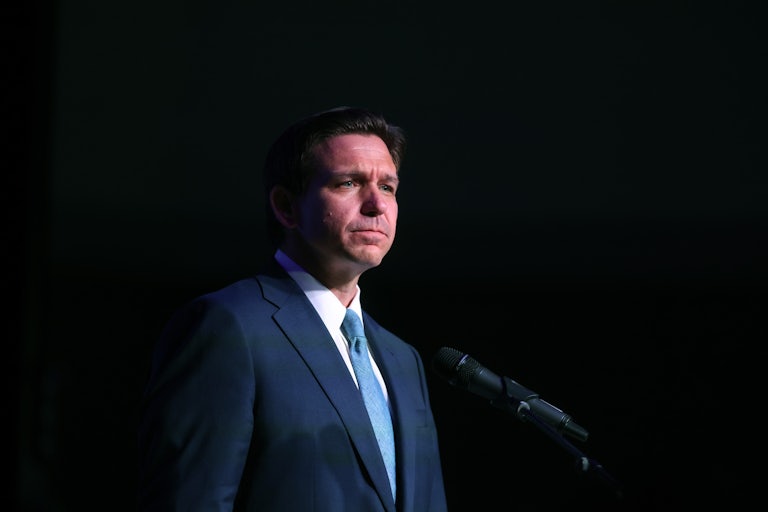 Scott Olson/Getty Images
Florida Governor Ron DeSantis has signed a bill that would shield all of his past and future travel records from public access, a measure widely slammed as an attempt to hide his movements.
The new law, which DeSantis signed Thursday, will block reporters from accessing information about how and where DeSantis and other government officials travel, as well as who they travel with. Details about whether DeSantis used a state plane or a private plane will be retracted. The law, the first of its kind, will also keep secret visitor logs to the governor's mansion and his office.
DeSantis has previously claimed the law is necessary for his security, but critics argue that he's just trying to keep secrets. Former state Representative Ben Diamond called the measure "outrageous."
"Floridians' hard earned taxpayer dollars should not go to pay for Ron DeSantis's campaign junkets,'' he tweeted. "But we will never know now that his legislative cronies made his travel records retroactively exempt from public disclosure."
Ben Wilcox, the research director and co-founder of the good government organization Integrity Florida, told Insider that DeSantis's argument that the law is necessary for his protection "strains credulity."
"How else can we know whether the travel was an appropriate use of public funds and hold those responsible accountable?" Wilcox asked.

When the bill passed the state legislature last week, House Democratic Caucus Leader Fentrice Driskell slammed the measure as a "blatantly obvious" attempt to make it easier for DeSantis to travel outside Florida and "raise his profile" ahead of his widely expected presidential campaign.

DeSantis should "resign as governor and go back to being a private citizen" if he didn't want his travel records to be public, Driskell said. "As long as he's in office, he should be open and honest about where he's going, when, and who is with him. Floridians have a right to know what their governor is doing, and that includes these travel details."
DeSantis has been on multiple trips, both domestic and international, which many suspect double as a warmup for a presidential run. Questions are rising about whether taxpayer funds have been used to pay for his travel, and now we may never know.
Florida Republicans have been clamping down on freedom of information, both in state schools and journalism. They also introduced bills that would have made it easier to sue journalists for defamation, as well as require paid bloggers who write about elected officials to first register with the state. Neither of these bills made it to a full vote.
The flip side of these crackdowns is that DeSantis is very bad at dealing with media scrutiny. He apparently short-circuited when asked about his terrible polling numbers, and he also freaked out when asked about his time working as a Navy lawyer at Guantánamo Bay.